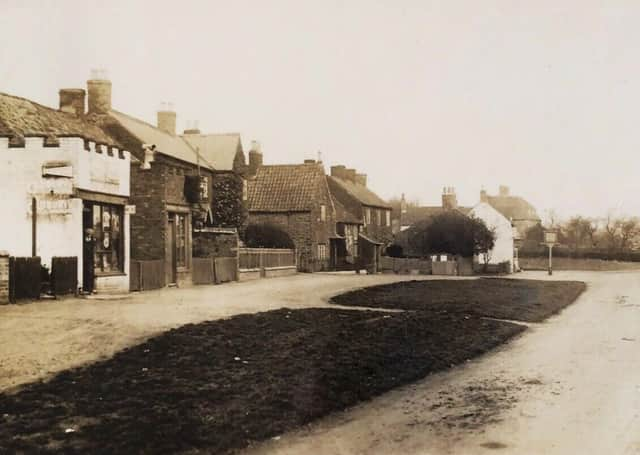 Wymondham Main Street in 1904 EMN-210422-132929001
Two shops, the square buildings with castle-like battlements catch my eye. In the white-painted store, a young man is standing in the doorway, eyes focussed on the photographer. Fading advertisements indicate the famous Cadbury's chocolates, made in Birmingham, are on sale. From the 1940s consecutively the Johnsons, the Bradburys and the Cartwrights ran the shops. Rita Staniforth's husband, now 80, grew up in Wymondham and he remembers the Johnsons were there in the 1940s when he was a kid. "The first shop one was a grocer and the second one a draper," said Dorothy O'Neill. "In the 1960s I used to walk from Saxby to buy national dried milk and orange juice for my children, and only remember the shop being Bradbury Groceries."
"The white painted square building was still there in the early 1970s, owned by the Cartwright family, being a Veevo general store," said Christian Semmens.
Helen Whitfield said: "I'm sure my nan spoke about there being hats for sale in one of the shops." Probably demolished in the late 1970s, Simon Ellis shows me a picture of a cash-till from one of the shops, he holds as a treasure.
Wymondham Main Street PHOTO Estelle Slegers Helsen EMN-210422-132940001
"The attached houses were home to whoever owned the shops," said Martin Welbourn. "The adjoining houses belonged to the Hill family and a bit further along you see the Post Office run by Ivy Cox in the 1960s and 70s." Before the bend to the right, a pub sign indicates the Angel Inn, now the Berkeley Arms. It is the one remaining pub in the village, named after the Berkeley family, who owned land in Wymondham and Edmondthorpe from the 14th to the 17th century, 11 generations in all. The cellar is reputedly occupied by a ghost named George. Rumour has it the pub once had an underground tunnel leading to the priory on Chapel Lane and from there to the village church. Behind the pub, on the other side of Butt Lane, the roof of Manor House is visible, now hidden by large trees.
by Estelle Slegers Helsen