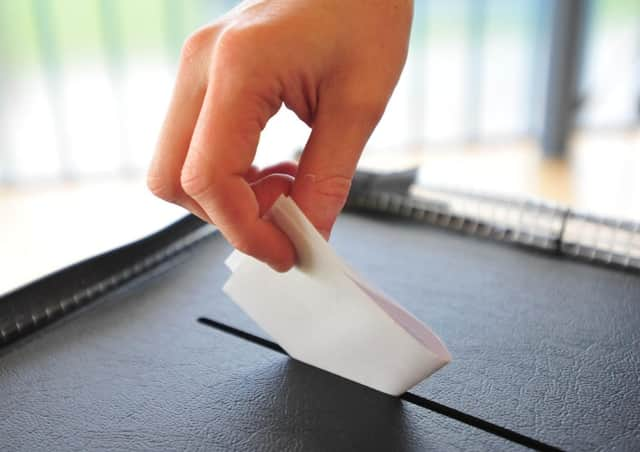 Local elections are taking place EMN-210430-174430001
Residents will be electing county councillors for the next four years in four divisions of the Melton area, as well as the new local Police and Crime Commissioner (PCC).
And the county's director of public health, Mike Sandys, has joined with Bev Smith, police area returning officer for the PCC elections, to tell people exactly what to expect when they go out to cast their vote, on Thursday May 6.
Mr Sandys said: "We want to ensure that everyone who is entitled to vote can do so despite the pandemic and we'd like to reassure everyone that polling stations are safe places to visit.
"All polling stations will have similar safety measures in place to those that we are used to in shops – hand sanitiser at exits and entrances, social distance markings and where possible a one-way system. All you need to do is to take along a face covering and your own pen or pencil."
Voters are being reminded they must take a face covering and their own pen or pencil to polling stations, which will have similar safety measures to those seen in shops and supermarkets.
Leicestershire has seen a big rise in those opting for a postal vote this year, with over 96,000 people choosing to vote from home – but for most it will be the traditional trip down to their local polling station.
Across the county, pubs, churches, libraries, a fire station and even a carpet shop are to be used as polling stations on election day, May 6.
In previous years, many schools have been used as voting venues, but this year, returning officers across the country have been urged to find alternative locations where possible in a bid to minimise disruption for pupils who have already missed much time off school due to Covid 19.
Ms Smith added: "Polling stations will be Covid-secure - voting booths will be cleaned regularly and although staff may be behind screens, they will still be available to help if necessary, including providing clean pencils for those who need them."
The county council provides a wide range of services including adult social care, children's social care, public health, transport, education, planning, road maintenance, libraries, waste management and trading standards.
Anyone who has to self-isolate on election day can apply for an emergency proxy vote, asking for someone you trust to cast your vote for you.
These applications can be made up to 5pm on May 6.
Votes will be counted on the morning of Friday May 7 with the results announced later that day.
Candidates for the local county council seats and those contesting the local PCC positions are as follows:
Bryan Lovegrove (Conservative);
Colette Stein (Green Party);
Sue Taylor (Liberal Democrats).
Martyn Gower (Green Party);
Simon Lumley (Independent);
Pam Posnett (Conservative);
Carol Weaver (Liberal Democrat);
Marcus Wilson (Reform UK).
Mark Frisby (Conservative);
Marilyn Gordon (Independent);
Alastair McQuillan (Green Party).
Steven Carter (Independent);
Carol Hopkinson (Labour);
Hamish McAuley (Liberal Democrat);
Joe Orson (Conservative).
LEICESTERSHIRE POLICE AND CRIME COMMISSIONER
Rupert Matthews (Conservative);
James Moore (Liberal Democrats);
Ross Willmott (Labour & Co-operative Party).