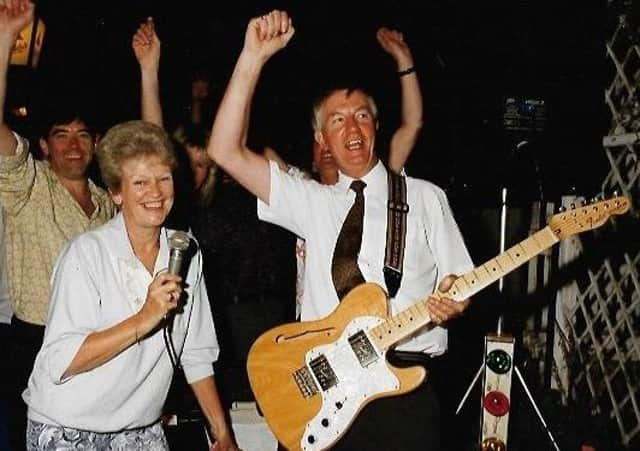 Former Half Moon landlord Ernie Pope (left) pictured at a presentation with wife Maggi EMN-200420-134706001
Ernie Pope ran the Half Moon, in Nottingham Street, with wife Maggi. from 1982 until 1998, and helped establish it as one of the town's thriving hostelries.
He passed away on Easter Saturday at Waltham Hall nursing home after suffering from cancer and, latterly, from dementia.
His widow Maggi, who is 80, told the Melton Times: "We had some great times together, particularly while running the pub.
Ernie and Maggi Pope pictured at the Half Moon during their 16 years running the Melton pub EMN-200420-134726001
"Ernie was such a great personality and very popular.
"We are devastated to lose him as a family as are his many friends in the town."
Ernie was born in Leicester and after leaving school he took an engineering job with Thorn Lighting in the city.
He met Maggi while on a night out at the old Durham Ox, at Six Hills, and the couple married at Loughborough in 1978.
Former Melton pub landlord Ernie Pope and wife Maggi performing some live music EMN-200420-134716001
Redundancies were being made at Thorn at the start of the 1980s and the couple began to think about a career change.
Maggi recalled: "I made a suggestion about maybe running a pub.
"We had a lot of pubs on our radar but the one which appealed most was the Half Moon.
"I remember the agent from Bass telling us 'just let your imagination run wild with this place'.
Ernie Pope behind the bar at the Half Moon in Melton EMN-200420-134736001
"It really was run down when we took it on because the previous landlord had been ill but all it needed was a smile and a cup of coffee as I've always said."
The brewery renovated the old building inside and the regulars flooded back with darts and skittles teams playing regular matches and a reputation building for good pub food. The couple also ran many fundraising events in aid of Melton Mencap.
"Ernie wanted to run a nice pub and that was the kind of people we had in as customers," said Maggi.
"I did the catering and we also introduced a coffee machine which was popular.
Ernie Pope with staff regulars at the Half Moon showing off a cheque following a fundraising event for Melton Mencap EMN-200420-134655001
"He was always behind the bar and we made a real success of the place.
"It was a great time to run a pub in Melton because that was what people did to socialise.
"The weekend would start on Thursday after people got paid.
"Nottingham Street was a busy place with the White Lion, the King's Head and the Mash Tub all thriving, as well as us."
They decided to leave the Half Moon after 16 years and took on the bar at the town's Hamilton Lawn Tennis Club for 12 months before retiring.
Two of Ernie's biggest passions were music and quizzes, which he enjoyed taking part in as well as organising.
Ernie had four children and Maggi has three and between them they have 14 grandchildren and nine great-grandchildren.
A funeral service will be held at Loughborough Crematorium but it will be restricted to just 10 mourners due to the Covid-19 regulations on social distancing.
Maggi added: "I dread to think how many people would have come to the service if they were allowed to because Ernie was such a well-loved man."