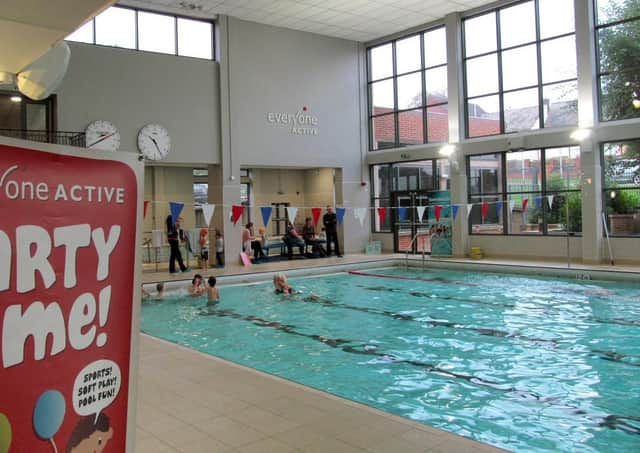 The swimming pool at Waterfield Leisure Centre EMN-201126-172740001
Both Waterfield Leisure Centre and Melton Sports Village have already been closed for many months this year as part of the national effort to limit further spread of the virus.
The Waterfield site, on Dalby Road, was out of use from March during the first lockdown and only reopened in early December after being closed for another month as restrictions tightened.
The sports village, which is off Burton Road, only reopened on December 21 after being closed for a longer period during the second lockdown.
An aerial view of Waterfield Leisure Centre in Melton PHOTO Mark @ Aerialview360 EMN-201126-172729001
Everyone Active, which operates both venues for Melton Borough Council, said in a statement: "We're sorry to hear the latest announcement from government confirming we will move into Tier 4.
"This unfortunately means we will close until further notice.
"We will be contacting all customers directly to confirm arrangements for their membership and lessons during the closure period.
"We're very saddened by this news and look forward to seeing all our customers again as soon as possible."
Simply Hair salon in Melton EMN-201231-110708001
The new tighter regulations do not affect Melton Mowbray Town Estate's golf and footgolf facility on Asfordby Road, however, as it is allowed to stay open under Tier 4 guidelines.
Non-essential shops must again close across the borough, which includes hairdressers, beauty therapy businesses and nail bars.
Simply Hair, which is on Windsor Street, posted on Facebook: "Here we go again.
"We will be in contact to reschedule appointments.
Beauty Box, Melton EMN-201231-110905001
"Thank you once again for your loyalty and support. Take care and stay safe. Here's to a better 2021."
Hair at No. 11, another town stylist on Market Place, posted on social media: "Due to moving into Tier 4 restrictions we will not be reopening on January 4 and will have to remain closed until told otherwise.
"I am so gutted to have to do this again for a third time but let's hope this is the final time!
"For now we won't be rearranging or moving appointments as unlike last time we don't have a set date to reopen so we will wait until we do and then be in touch.
"Our diaries will be closed for new bookings until we know more.
"Until then, stay safe and let's hope this is the last time we have to go through this.
"We hope you're all ok and all local businesses in Melton will be ok.
"These are very hard and testing times on us all but we will get through this eventually."
And King Street's Beauty Box salon confirmed it too has had to close from today.
The owners posted on Facebook: "We again don't have an open date just a review date in two weeks.
"So all appointments for the next two weeks will be cancelled and we will wait till we hear more.
"All other appointments will be left in the diary till we know more!
"Any pre payments and deposits will still be on account for future bookings.
"Our online shop is still open so you can buy vouchers, products and gifts too."