Pressure still on Leicestershire hospitals a year into Covid pandemic
Hospital services in Leicestershire remain under pressure from dealing with patients who have Covid-19 a year on from the county's first confirmed case.
Monday, 8th March 2021, 11:17 am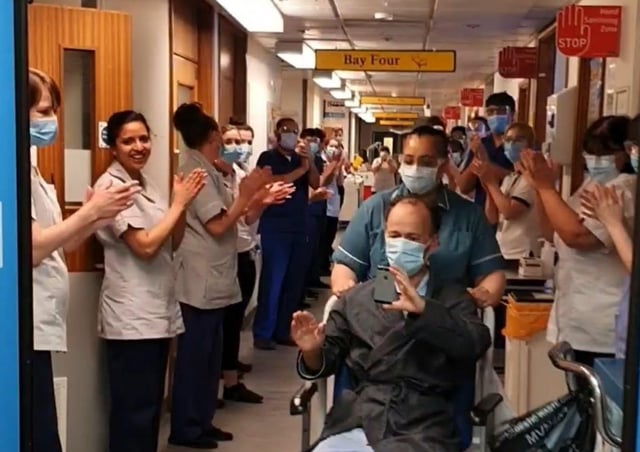 Hylton Murray-Philipson receives a guard of honour from staff at the Leicester Royal Infirmary back in April 2020 after recovering from being in intensive care with the Covid-19 virus EMN-210803-110709001
Local health leaders say infections have been falling but this is no time for complacency despite the rapid roll-out of vaccinations.
Andrew Furlong, medical director at Leicester's hospitals, which has treated the most serious of the 77,000 cases reported since March 2020, said: "The challenges and pressures of caring for patients during the pandemic continue to be very real for all NHS staff.
"Our teams go above and beyond daily to deliver the best possible care and we're proud to have been able to support thousands of people in getting home to their families.
Mike Sandys, director of public health at Leicestershire County Council EMN-210803-110744001
"But we have also experienced significant loss and sadly every day, people are still dying from this virus.
"As we mark 12 months of living and coping with the pandemic, we remember those we have lost and our thoughts go out to everyone now living without a loved one and all those living with the long term effects of Covid.
"In recent weeks we've seen a slow drop in cases in our hospitals but we are still treating many very poorly patients and our services remain under pressure.
"The amazing NHS vaccination programme is a beacon of hope but now is not the time for people to ease up.
Leicestershire Chief Constable Simon Cole EMN-210803-110728001
"It's so important we all continue to play our part in preventing the spread of the virus. Lives depend on it."
There have now been 2,300 coronavirus-related deaths of residents in Leicestershire and Rutland while another 4,000 people have been treated for the virus in county hospitals before being discharged.
Mike Sandys, director of public health for Leicestershire County Council and Rutland County Council, talked about dealing with the biggest single health crisis in post-war Britain.
He said: "The call about the first confirmed case came in early March and wasn't travel-related, offering a glimpse into what we were dealing with, plus the ease of transmission.
"And with our second, which was connected to travel, family members then contracted it giving us early sight of the importance of space and reducing close contact."
The last year can be broken down into three stages, Mr Sandys explained: "Each phase has brought different challenges requiring lightning-quick responses. "Providing PPE and translating guidance was very much the priority at the start, whilst the localised lockdown brought our area into the national spotlight in June.
"Over the summer and autumn, the focus switched to localised testing and tiering.
"And the pop-up, asymptomatic testing we brought into Oadby and Wigston and Melton generated a big fall in rates.
"And since December, we've set up seven rapid community test centres across the county and are continuing to target hot spots whilst urging people to get vaccinated."
He added: "The realities of the pandemic are stark.
"People are continuing to struggle with the effects of coronavirus, experiencing hardship or struggling with isolation and mental health issues.
"And there are thousands of families in our area who have lost loved ones and my thoughts are with all those affected.
"It's been a relentless year for everyone - but our role remains keeping people safe."
Andy Williams, chief executive of Leicester, Leicestershire and Rutland Clinical Commissioning Groups, said: "Leading the local covid response has been challenging but I've been touched by the tremendous effort, dedication and goodwill of our NHS staff, volunteers, local partners and communities.
"Thank you for coming together and looking out for one another, during a year which has been like no other.
"We entered this year with fresh hope as we introduced our vaccination programme, which over time, will play a vital part in ending the pandemic.
"Please do take up the vaccine when it is your turn."
And, while the vaccination programme reaches more and more people, with 342,885 having had at least a first jab by the end of February in Leicester, Leicestershire and Rutland, the message remains that residents should continue to follow the rules around hands, face and space.
Reflecting on the challenging past year for Leicestershire Police, Chief Constable Simon Cole, said: "I vividly recall the director of public health calling me to tell me that we had our first Covid case in Leicestershire.
"It has been a difficult year for us all.
"The force has received over 25,000 calls about potential Covid breaches, and issued over 2,500 penalty notices.
"We have continued to engage with the public in a positive way throughout and despite officers and staff putting themselves at risk they have been up to the task and continued to work tirelessly to keep the people of Leicester, Leicestershire and Rutland safe.
"I could not be more proud of the efforts of all of my colleagues and we are grateful to all of those who have followed the rules.
"We are at a crossroads and it is important we maintain what the lockdown has achieved.
"My plea at this stage would be don't wreck it – we have come so far, let's get safely to the return to normality."
Latest figures show that rates in Leicester, Leicestershire and Rutland remain above the national average.
Nick Rushton, leader of Leicestershire County Council, added: "We've been working with partners to fight coronavirus together for over a year.
"I want to thank all those essential workers who have kept vital services running, the volunteers who've stepped up to help people and send my sympathies to families who have lost loved ones.
"With the vaccine roll out increasing, things will open up slowly – and that will be vital for the future economy – but it's also no time for complacency and people need to remain vigilant."