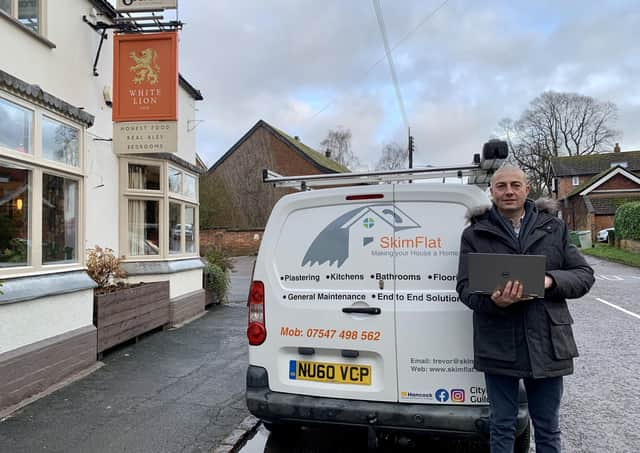 Trevor Dustan, a Whissendine resident and businessman who has taken part in a campaign to get full fibre broadband for the village EMN-210401-132205001
Engineers have started installing a full fibre network at Whissendine to give internet-users a much better performance and fewer drop-outs since the fibres will be connected directly to homes or businesses.
Villagers will enjoy broadband speeds of up to 1Gbps, which is around 15 times the current national average, thanks to a collaboration between the community, Openreach and Rutland County Council.
The scheme – secured after local people pledged support for the government's Rural Gigabit Voucher Scheme - builds on the existing superfast broadband network in the village, which was put in place in 2013, through the Digital Rutland programme.
Villager and business owner, Trevor Dustan, spearheaded the campaign for the new technology, which will be supplied at a time when more residents are confined to home due to coronavirus restrictions.
Mr Dustan, who runs Skimflat Property Maintenance, said: "Bringing full fibre all the way to our homes will completely transform the way people can go online and provide everyone living here with a state-of-the-art broadband connection, now and for decades to come.
"The reaction from the village has been fantastic.
"I made sure all 450 properties had a leaflet about Openreach's broadband scheme and shared information on the various social media groups we have here.
"The local pub, The White Lion, were also incredibly supportive and helped rally support and act as a focal point for the community.
"I'd strongly urge other communities in the same position to look at working together in the same way."
Kasam Hussain, Openreach's partnership director for the midlands, commented: "This build is expected to take about 12 months.
"Whissendine is the first village in the county to benefit from Openreach's full fibre network and people living and working here are going to notice a huge difference.
"Our engineers – designated as key workers during the Covid 19 pandemic - have already started building the network, and because we use existing infrastructure wherever possible, we're keeping disruption to an absolute minimum.
"Once the network is built, villagers should get in touch with the company they pay for their broadband and enquire about upgrading to full fibre.
"It doesn't happen automatically."
Fibre optic cables are really powerful and tough, providing a future-proof network that's ready for anything thrown at them.
This includes homeworking, running a business, video streaming, tablets, laptops, VR headsets, or even smart technology like home heating and lighting controls.
Councillor Oliver Hemsley, leader of Rutland County Council, said: "Fast and reliable broadband is vital to help people stay connected, particularly in rural areas like Rutland.
"This has never been more important, given the extent to which we've all come to rely on the internet for work, education and keeping in touch this year.
"The Digital Rutland project has created the best possible conditions for families and businesses to upgrade and take advantage of faster internet speeds. "It's encouraging to see the community in Whissendine taking this one step further by upgrading to gigabit-capable full fibre broadband through the Rural Gigabit Voucher Scheme.
"We are also working hard to bring full fibre broadband to more communities in Rutland as part of the UK's Local Full Fibre Network Scheme."
According to independent website Think Broadband, around 97 per cent of residents in Rutland already have access to superfast fibre coverage at speeds of 24Mbps and more.