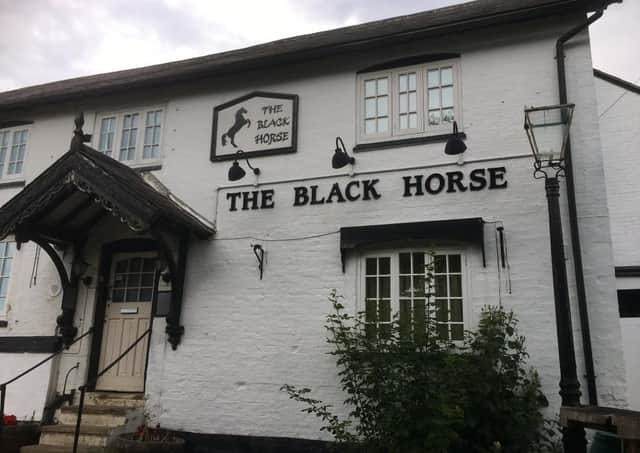 The Black Horse at Grimston EMN-210701-124314001
The Black Horse, at Grimston, has operated as a pub for around 400 years but has been closed for almost a year because the owners say it is unviable as a business due to a lack of local support.
They tabled controversial plans to convert part of the main building into a two-bed flat and an outbuilding into a two-bed house, while retaining the pub on a much smaller footprint.
Fierce opposition from villagers and residents from neighbouring Saxelbye and Shoby led to Melton Borough Council throwing out the scheme last July.
And a campaign organisation, The Black Horse Community Group, looked into ways of preserving the pub as a sustainable community asset for this and future generations.
Mike Petty, chair of the group, told the Melton Times: "We have engaged a member of the Royal Institution of Chartered Surveyors, who specialises in the valuation of public houses, who inspected the property and produced a valuation report.
"Based on the report, the community group has now made an offer to purchase The Black Horse pub."
The Main Street pub was a popular destination pub serving quality food in the recent past and was named in the prestigious AA Pub Guide for 2020.
It is registered by the borough council as an asset of community value (ACV), a status which was upheld following a recent challenge by the owners.
The community group's bid to buy the property has been boosted by them being granted a valuable package of business support advice and a £2,500 bursary from More than a Pub, a programme established to help support community ownership of pubs in England.
It is delivered by the Plunkett Foundation in collaboration with Co-operative & Community Finance, Key Fund, the Campaign for Real Ale (CAMRA),
Co-operative Mutual Solutions, Pub is the Hub, Ministry of Housing, Communities and Local Government and Locality.
Mr Petty, who praised the support and enthusiasm from local people for the project, commented: "We're delighted to have been awarded support from More than a Pub.
"It will support us in the costs associated with incorporation and building a business case to purchase the pub."
The application process for the bursary was highly competitive, particularly as the funding programme is coming to an end.
Plunkett Foundation executive director, James Alcock, said: "We're so pleased to be able to support The Black Horse Community Group who are working hard to make sure their community can benefit from everything that having a thriving local pub brings.
"Pubs that are owned and run by the community are so much more than a place to buy a drink; they provide important social spaces and services for local people, and are central to their community's sense of place and identity."
The community group is awaiting a decision from the owners on their offer to buy the pub.