Sports clubs look forward to the return of outdoor sports in and around Melton Mowbray
Golf and tennis clubs react to Government roadmap...
Wednesday, 3rd March 2021, 12:49 am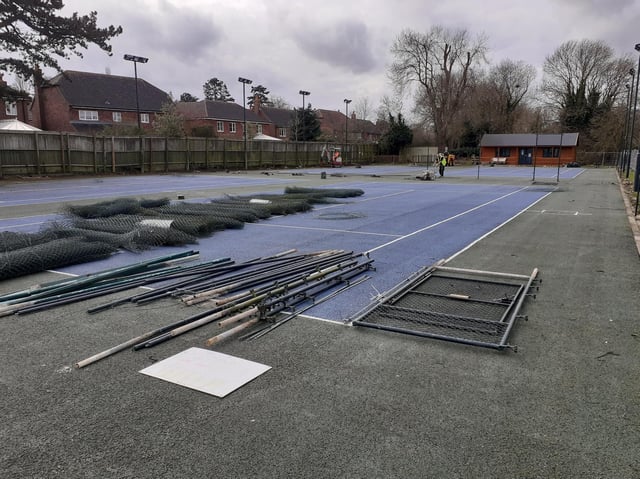 The hard work continues at Melton Mowbray Tennis Club.
Sports clubs in the Melton Mowbray area are preparing to re-open to members later this month.
Outdoor action can resume from March 29, it was announced in Prime Minister Boris Johnson's roadmap out of lockdown.
The Times spoke to local clubs about the long-awaited resumption of sport.
Gordon Hughes, chairman of Hamilton Lawn Tennis Club, said members were delighted that social and pay-to-play tennis was set to return.
"The hope is that tennis will get back to some sort of normality this year as last year's restrictions proved very disruptive to all activities within the club and inter-club competitions," he said.
"Everyone recognises the huge benefits sport plays in boosting general fitness and wellbeing.
"Tennis is particularly good because it can be enjoyed by people of all ages and abilities.
"We look forward to when we can re-open our clubhouse, hopefully on April 12. It will be great to see members and other visitors enjoying social gatherings again."
The hard work has continued at Melton Mowbray Tennis Club despite the courts being closed.
Club coach Brent Horobin told The Times: "Melton Mowbray Tennis Club are counting the days until March 29 when tennis will once again be unlocked from the shackles of this year-long pandemic.
"The club committee, led by chairman Justin Horobin, have been far from idle despite the lockdowns and along with project manager Jason Wheatley the pair have negotiated a number of hurdles to ensure that the club will, in late March, early April, have four top quality artificial grass courts, on a par with any in the county.
"The perimeter fencing will also be replaced and work is already underway with county company Fosse Contracts undertaking the project."
Justin commented that the culmination of the project had been down to the efforts and support of our committee, members, coaches and many individual and local business sponsors.
"The new courts will ensure that everyone attending the club, no matter what standard, from beginner to county player, young or more mature, can enjoy the experience of playing on the new courts," Mr Horobin added.
"This surface is ideal for coaching on as the ball bounces a little higher and slower plus it is generally accepted that surface is much more forgiving on knees, ankles etc, meaning members or non members can expect to lengthen their playing careers."
Melton Mowbray Golf Club's press officer Gerald Stephens says the there is excitement about the return: "Melton Mowbray Golf Club committee and staff cannot wait to welcome everyone back.
"The feedback received about the Government's phased return to sport has been well received, although a few weeks later than we would have hoped.
"Despite the pandemic, Melton Mowbray GC experienced a positive season during 2020 with an influx of new members keen to take up or return to golf.
"The junior section also flourished and is a high priority for continuing development in 2021.
"All golfers experienced our We're Good To Go accreditation which demonstrated the Covid-19 safety precautions in place at the club.
"We look forward to opening our doors to all members and a return to enjoying a friendly round of golf in the fresh air."
Those sentiments were echoed by Glyn Staines, commercial chairman at Stoke Rochford Golf Club.
"At last we have a date for the return of our beloved sport," he said.
"Over the past year we have experienced a whole range of restrictions and controls, which the golf club have embraced, realising it is better to play under constraints than not play at all.
"I must say our members were very compliant, and I am not aware of anyone contracting this terrible disease at the club.
"It was a bitter blow when full closure was introduced. As a club we agreed that we needed to come out of this situation stronger, and to that end we agreed to keep our greenstaff on and improve our course.
"As a result we have added bunkers, removed some other bunkers, and drained a pond to reveal untold treasures (including some of my golf balls).
"On our return I am sure the members will be fully appreciative of the improvements we have been able to under-take, although I am sure we will all try the new features out in time."