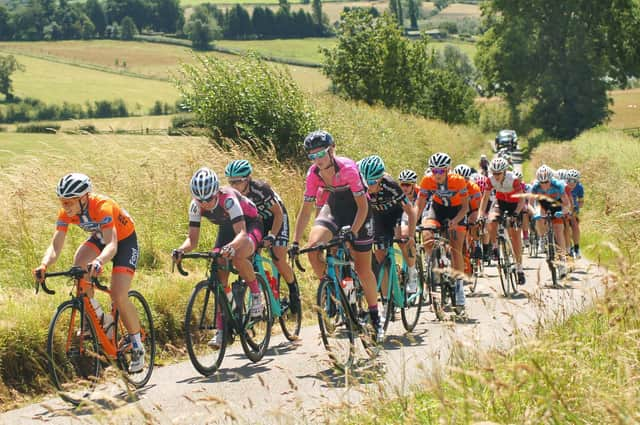 The Women's CiCLE will go ahead after funding. Photo: Tim Williams
A crowdfunding project initiated just two weeks ago has now been closed having exceeded its original target of £15,000 by a sizable margin.
All the funds raised will be used to stage and further develop the 2022 race and look forward to the future.
"Whilst those that contributed to the crowdfunding came from all walks of life, intent on securing this year's race, a big thank you must be extended to the Sex Matters and Fair Play for Women organisations who galvanised support for the initiative from across the World," said race director Colin Clews.
"Being able to raise our target sum within just two weeks was a fantastic effort from all interested in seeing the race continue.
"A really tremendous that is to be applauded and for which the race organisation cannot thank all those involved enough."
The publicity created by the sponsor's withdrawal has as hoped also brought forward varying offers long term sponsorship and other forms of support for the event.
With a firm offer of title support for the Women's CiCLE Classic fully compensating for the funding lost from a public listed company is now awaiting completion which would secure the race from 2023 to 2025.
Peter Stanton, who was instrumental in the creation of the Women's CiCLE Classic, and had sponsored the race since its inception in 2016, made the decision to withdraw funding after cycling's governing body, the UCI, ruled trans woman cyclist Emily Bridges was ineligible to compete in the women's British National Omnium Championship.
In response Sex Matters - an organisation whose mission statement is to 'promote clarity about sex in public policy, law and culture' - and Fair Play For Women, a group which 'protects the rights of women and girls in the UK' offered to fun this year's race.
The races – which form part of the British Cycling Women's National Road Series and Junior Men's National Road Series – are due to take place on Sunday, June 19, having become integral parts of the national racing calendar over recent years.
Previous winners of the women's race include Tokyo Olympic gold medallist Katie Archibald and silver medallist Neah Evans, with its unique terrain and challenging course making it a firm favourite in the women's peloton.
Last week the crowdfunder has passed the £12,000 mark with many donors keen to keep the ever-popular event running, further funds meaning the target was surpassed.