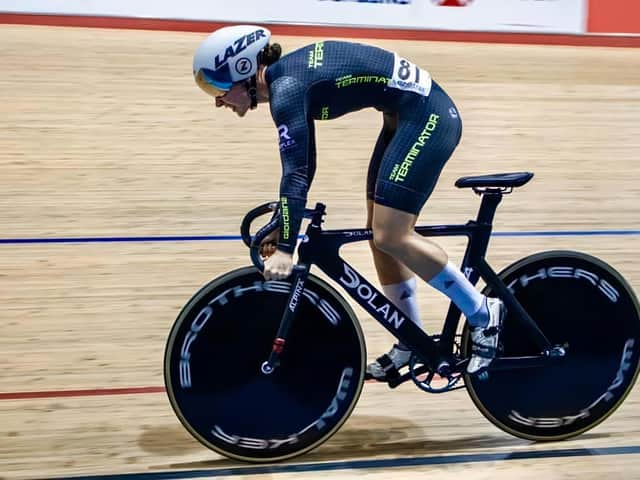 Georgia Holt.
The Leicestershire countryside came to the rescue during lockdown for cycling star Georgia Holt, who is now back in the velodrome in pursuit of a place in the Team GB squad.
The 20-year-old from Melton Mowbray, who is balancing her Olympic ambitions with studying a Biomedical Sciences degree at Manchester Metropolitan University, began the year by hitting her targets at the National Track Championships, but could not immediately build on those performances as competitions fell by the wayside.
Holt was grateful for the break, however, and is now raring to go when her Great Britain trials begin this autumn.
"I needed time to sit down, reflect and train hard," Holt said.
"I went home to Leicestershire and the roads are beautiful, so training on the roads was a joy.
"Not being on the velodrome was hard and trying to replicate it in the middle of the countryside was difficult but I was fortunate to be able to get out and train.
"When I got back on the velodrome recently it was like Christmas came early. I'm really excited – it's nice to know I'm not training in vain and I have targets to hit."
Holt grew up riding horses rather than bikes but the results from a Talent ID day in 2018, which she attended having been inspired by watching skeleton at the Sochi Winter Olympics, suggested cycling as a sport to try – and she hasn't looked back.
"Essentially, I got into it by accident," said the former Ratcliffe College student.
"I hadn't done any sport for two years and I'd had an operation on my heart, but the Talent ID day was great fun and it all grew from there.
"I wasn't a cyclist growing up but I was happy to give it a go and it has been a whirlwind ever since."
Holt's ambitions have been boosted by funding from a three-year partnership between GVC and SportsAid, helping young athletes cover the costs of training, travel and equipment – as well as providing access to mentoring by former Olympians and Paralympians – in order to help them fulfil their potential.
And having won gold in the 200m and 500m individual sprint events at the 2019 British Universities and Colleges Sports (BUCS) Championships in 2019, Holt is aiming for the top.
"If you'd asked me five years ago, I'd have said 'I'll be an Olympic event rider'," she said.
"Now I'm sat here saying 'I'd like to be the world champion and Olympic champion in cycling'.
"I do sprint, team sprint and 500m so ultimately the goal is to be a triple world champion. Shorter-term, I really hope to get on the GB squad in January.
"The time I've had away has done me a lot of good. I am going back into it as a more grown-up person and I can't wait to get back to it."
GVC is championing the next generation of British sporting heroes by providing talented young athletes with financial support and personal development opportunities in partnership with SportsAid.
As part of this three-year partnership, GVC are supporting a diverse group 50 of UK athletes per year from a variety of spots and para-sports. Visit gvc-plc.com to find out more.