Funding for Melton bypass south link still in the balance
Millions of pounds of government funding to help the building of a southern link to Melton's approved partial bypass remains in the balance.
Tuesday, 23rd March 2021, 4:14 pm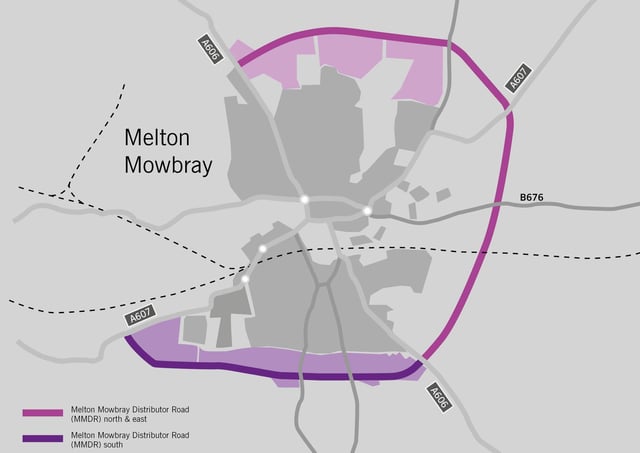 The route of the approved Melton Mowbray Distributor Road (MMDR), connecting north, east and south, and how it would join with the planned southern link section EMN-210323-160711001
It would cost £28million to build the road, which would connect with the north and east sections of the Melton Mowbray Distributor Road (MMDR), which already has full funding and planning permission.
The government has agreed to pay £15million of the cost of the proposed south link and the plan was for Leicestershire County Council to make up the shortfall and then get it all back from developer contributions from the thousands of new homes due to built in that part of town.
However, back in June, County Hall's cabinet felt it was too much of a risk for the authority to put that cash up front because it said the development masterplan provided by Melton Borough Council did not provide enough confidence that the money would be recouped.
A computer-generated drone flight over the proposed Melton Mowbray Distributor Road (MMDR) showing where the road would end, at a new junction with the A606 Burton Road, and where a proposed south link would connect with it EMN-210323-160816001
The impasse sparked a war of words between the two councils in December when the county council reiterated that it could not afford to underwrite the building of the south link and infrastructure around the MMDR including two new schools, which would cost £55 in forward funding.
It called on the borough council to put more cash of its own up front but Melton emphasised it could afford no more than £1million because it has a much smaller budget than the county.
The original deadline for accepting the government's £15million HIF grant passed before Christmas but there remains a possibility that it could still be claimed.
The borough and county councils are working with representatives from Homes England to try and identify a way forward.
Melton Council leader, Councillor Joe Orson, told cabinet colleagues at their latest meeting: "An awful lot of work is taking place and we are making progress.
"But we are not yet in a position to finalise any agreements."
A decision on the council's status in the negotiations over the funding was deferred until the next cabinet meeting on April 21.
Work is due to start on the north and east sections of the MMDR, linking the A606 Nottingham Road with the A606 Burton Road, in spring next year with an expected completion in early summer 2024.
And is hoped that a southern section, connecting Burton Road with the A607 Leicester Road, would be built at the same time.