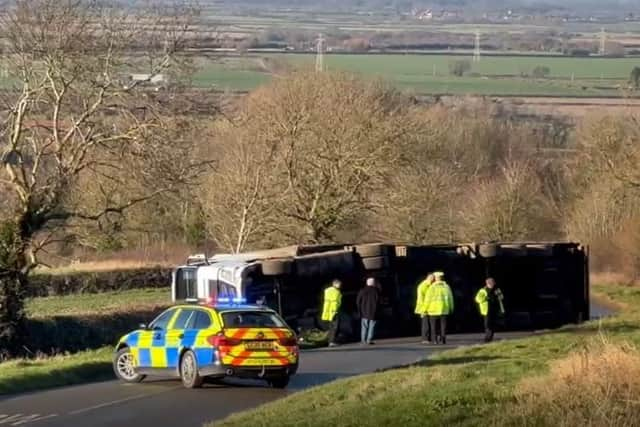 A lorry blocks the road near Stathern after overturning this afternoon PHOTO Ben Gregory EMN-220113-152457001
Ben Gregory captured this image of the stricken vehicle on Mill Hill on the approach to Stathern.
Police officers were alerted to the incident shortly after 1pm and the road remained blocked in both directions for several hours until the vehicle could be lifted away.
Passing motorists helped the shaken driver from his cab and miraculously he appeared uninjured despite his cab toppling over on to its side.
The overturned lorry on Mill Hill at Stathern EMN-220117-181949001
Two plumbers used their ladder to help the driver, who was Polish, out of the huge vehicle.
Another driver who helped out at the scene, arrived with his heavily pregnant partner as they headed home to Melton after visiting relatives in Stathern.
The man, who declined to be named, said: "It could have been a lot worse - we were amazed that he wasn't seriously injured.
"When we arrived we didn't know what we were going to find because it was a very big waggon.
"The driver was Polish and didn't speak any English.
"He asked to get his cigarettes out of the cab which we saw as a good sign that he wasn't badly injured."
Those at the scene helped stop traffic to prevent any collisions with the lorry until police arrived around half-an-hour later.