£10K boost for Melton cancer group thanks to music concert
A concert played in Melton by an iconic brass band raised £10,000 for the local branch of Macmillan Cancer Support.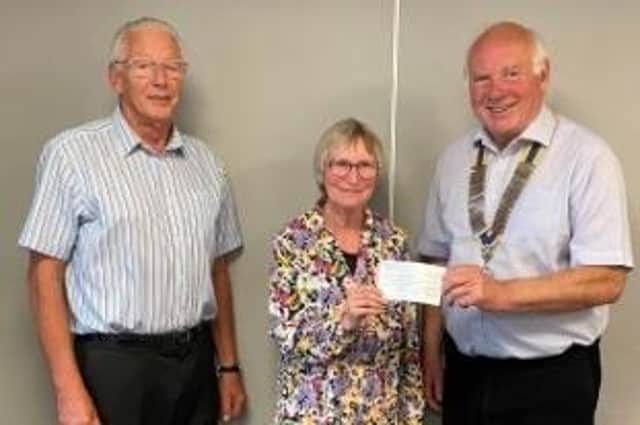 Members of Grimethorpe Colliery Band, which was formed in South Yorkshire during the First World War, played to a full house at Melton Theatre earlier this year.
The Rotary club's President, Gordon Wells, and fellow member Derek Simmonds, are shown presenting a cheque to Janet Gilchrist, secretary of the local Macmillan group.
Janet said: "I wanted to say how grateful the local Macmillan group are for the way the Rotarians took on this project and so kindly decided to fundraise for Macmillan.
"To receive a cheque for £10,000 is certainly the greatest amount that I can remember whilst I have been in the local group."
This success of the event would not have happened without the initiative and enthusiasm of Derek Simmonds, who got the club to support him in putting on the concert.
There was also generous support from sponsors, including Samworth Brothers, Smith Elliot Partners, Melton Lions Club, Greene King, Co-op Funeral, Melton Bowls Club, Melton Rotary Club and Parkers.
The concert was originally booked for before the pandemic but the band was able to reschedule it, with tickets selling out for a memorable night.
To show their gratitude for his efforts, the Rotary club presented Derek with its highest award, a Paul Harris Fellowship, which is named after the founder of Rotary.
Derek said he was very grateful to the club and thanked the team that worked with him on the concert.