Melton students invited to get fit with This Girl Can programme
by Roberta Twidale
Tuesday, 9th March 2021, 12:01 pm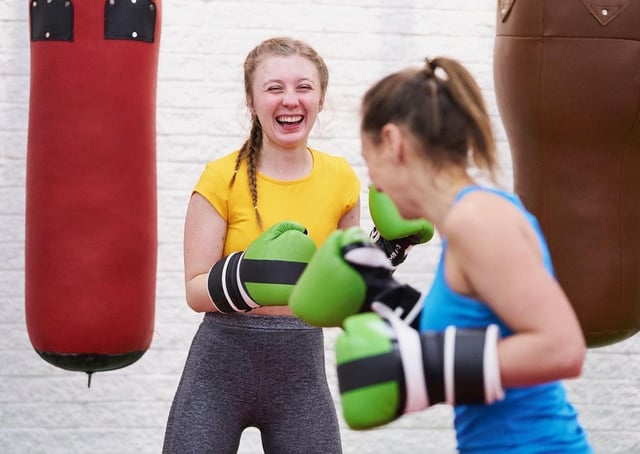 Girls taking part in exercise sessions organised as part of the This Girl Can campaign EMN-210903-114721001
This Girl Can, the national initiative to encourage women to be more active, is going virtual this year and with Melton secondary school students and pupils from the town's Birch Wood Special School invited to take part in local activities.
In a small pilot project, Leicester-Shire and Rutland Sport are offering the girls weekly workouts throughout this month in a range of sessions designed to get them moving whilst having fun.
Lauren Cotton (25), school sport and physical activity manager for 30 schools in Melton and Belvoir, said: "If you look at Sport England statistics, girls generally have lower activity levels than boys."
Lauren Cotton, school sport and physical activity manager for Melton and Belvoir EMN-210903-113100001
She added that there are lots of barriers preventing girls from doing sport, including lack of confidence, poor body image and fear of judgement.
"We want to put out the message that sport is for all girls no matter what shape or size," added Lauren.
"It doesn't matter what activity you're doing as long as you're moving."
Getting active can have a positive impact not just on physical fitness but also on mental wellbeing, which has become even more important during the ongoing pandemic.
Far from putting girls off, going virtual to comply with current pandemic restrictions is giving some the confidence to have a go at a new activity from the comfort of their own home, where they can work out with the camera switched off if they wish.
Girls who get involved can earn rewards and the chance to be entered into a prize draw to win shopping vouchers.
Next year, Lauren hopes to extend the programme to more schools across Melton and Belvoir, with both face-to-face and virtual classes delivered by local
instructors, where possible, so girls can easily continue to attend a class they enjoy.
Throughout March, Leicester-Shire and Rutland Sport in conjunction with This Girl Can is offering 51 different activities to women and girls across the county, ranging from traditional exercise classes to more unusual ones such as barre workouts, dance, pilates, a variety of yoga disciplines, Nordic walking, weights workouts and martial arts.
For £10, girls can sign up for unlimited access to the full programme of virtual exercise classes.
And the whole household can get involved with partners, children, family and housemates welcome to join in at home.
There's no closing date and the price of a ticket includes a This Girl Can tee-shirt and water bottle.
Go to www.lrsport.org for more details.