Melton Rotarians breathe new life into devastated Nepal school
A small junior school in a remote and impoverished village in Nepal is enjoying a revival thanks to the joint efforts of Melton Belvoir Rotary Club and The Gurkha Welfare Trust.
Friday, 19th March 2021, 5:50 pm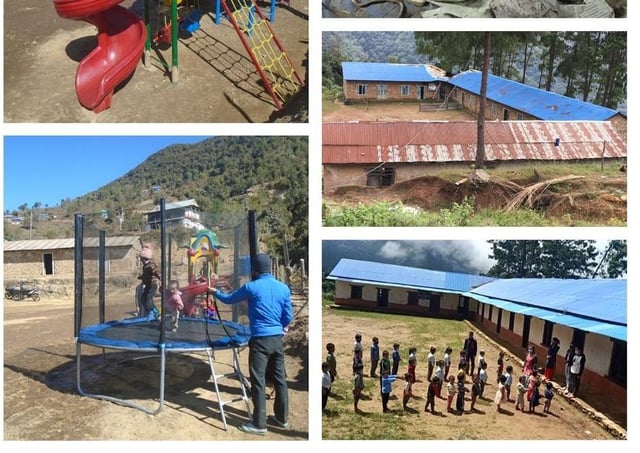 Shree Panchakanya School in Pokhari, a remote village in Nepal, which is being revived thanks to a campaign involving members of Melton Belvoir Rotary Club and The Gurkha Welfare Trust EMN-210319-174252001
Shree Panchakanya School, in Pokhari, a village about two days trek on foot, in mountains where 4x4 vehicles cannot pass, suffered badly from the massive earthquake which shook the country in 2015, and then again when a fire burned through its roof.
Teachers left and the school virtually ceased to function.
Now, thanks to the fundraising efforts of Meltonians, a grant from The Rotary Foundation and the newly-motivated efforts of the villagers the roof has been repaired, work tables provided and playground equipment set up.
The school roll is growing, and the local children no longer have the option of travelling two hours to the next school or going without a basic education.
Paul Dickinson, a member of the Rotary club, told the Melton Times: "This really is a good news success story which came out of a group of local people who came across the school while trekking in the Himalayas and wanted to do something to help.
"So we raised some money, got a grant, set up a partnership with The Gurkha Welfare Trust, who we could trust to manage things on the ground for us, and this is stage one of revitalising this school."
He added: "Nepal is one of the worst places in the world for child trafficking.
"The absence of even a basic education is one of the factors that makes children vulnerable, particularly girls.
"People of Melton have just made a huge difference to the children of one village at least."
There is much more still to be done and the members of Melton Belvoir Rotary Club plan to continue their support and raise more money to help support the
teaching staff over the next few years.
The coronavirus lockdown has delayed the club's project to 'Bring the Albert Hall to Melton Mowbray', which centred on a concert by the world famous Grimethorpe Colliery Band to raise money for Nepal, but plans are in progress to reschedule the concert for a time when the people of Melton
will once again be free to go out and enjoy themselves.