Melton MP makes 11th-hour bid to rescue funding for southern relief road
Melton's MP Alicia Kearns is making an 11th-hour bid to rescue funding for a southern link to the town's partial bypass, saying it is 'unthinkable' just to hand back crucial government money pledged for the project.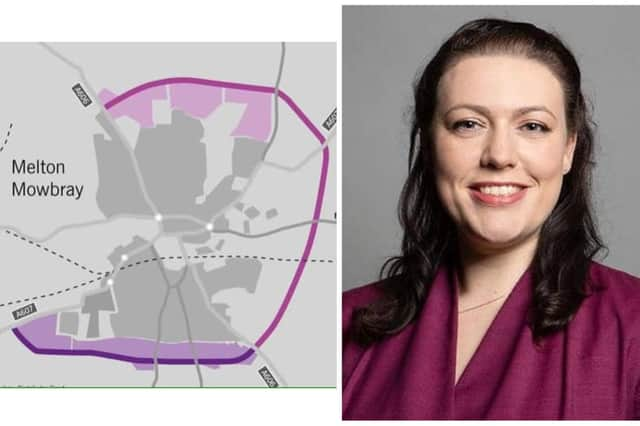 We reported this week that Leicestershire County Council was unable to go ahead with building the south section, linking the A606 Burton Road with the A607 Leicester Road, because of its challenging financial situation.
The cost of the road has risen by £27million to £70million due to rising construction costs and inflation.
This would mean County Hall having to forward fund much more than it originally budgeted for with government agency, Homes England (HE), having offered the council an £18.2million HIF grant, conditional on the southern stretch being fully funded.
Mrs Kearns was unhappy that the county council had not discussed with her returning the funding to the government before publicising their decision.
She feels the south link is an important part of the Melton Mowbray Distributor Road (MMDR) project.
Mrs Kearns posted on social media this afternoon (Friday): "Many of you will have seen recent media reports about Leicestershire County Council withdrawing from the Homes England Housing Infrastructure Funding Grant, jeopardising the delivery of the MMDR south section.
"I was disappointed not to receive any prior notice of LCC's intentions, especially given our joint effort to make the MMDR a reality.
"It would be unthinkable to hand back £18.2m of government money and that's why I'll urgently meet with the Transport Secretary.
"After 40+ years of being promised this road, we fought hard to make sure the MMDR went ahead and despite numerous obstacles being thrown in our way spades are in the ground.
"I have also written to LCC to express my disappointment at this decision and their lack of dialogue on it."
The county council is adamant that a southern section could still be built at some time in the future and it pledged to work with the MP and the borough council to make it happen.
County Hall leader Nick Rushton said earlier this week: "We've bent over backwards trying to identify alternative funding methods and lobbied government for more money to help us get the southern leg over the line.
"We've simply exhausted all avenues and cannot afford to build it at this point in time, given our cost pressures and inflation.
"Given the amount of work put in on the southern stretch to date, we would be in a good position to bid for money to support this project at a later date.
"We're committed to working with Melton Borough Council, MPs and other stakeholders now and in the future, to secure cash and deliver their local plan."
Members of the county council's cabinet are due to discuss the funding issue for the MMDR south link again on Tuesday.
Work on the north and east section of the MMDR – connecting the A606 Nottingham Road to the north with the A606 Burton Road to the south – started earlier this year and it is expected to be opened to traffic in late 2025.