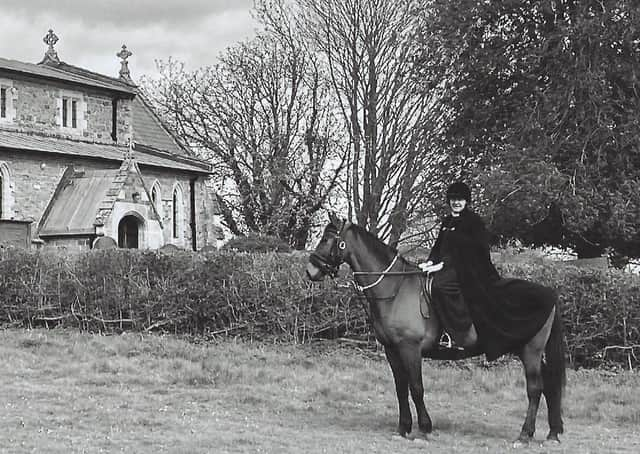 Rev Paul Towns pictured on Charlie outside Wartnaby Church during his busy round of Good Friday services EMN-210704-140907001
Rev Paul Towns covered about 10 miles on his beloved 11-year-old Charlie, tethering his trusty steed outside while he addressed parishioners.
The duo caused quite a stir as they started out at All Saints Church at Asfordby and went on to canter and trot to churches at Saxelbye, Grimston, Wartnaby, Ab Kettleby and Holwell.
Rev Towns told the Melton Times: "I'm a horse rider anyway and I wanted to exercise my horse.
"I have six churches which are pretty rural, apart from Asfordby, there are a lot of bridleways between them and it seemed the natural thing to do.
"There was also a sense of pilgrimmage riding to my services in this way."
Charlie, who is a 16.3 Irish sports horse, had a nice lunch at Grimston during the day, which started at 9am and finished with the 5.30pm Holwell service.
"I tethered him to hedges outside each church and he was very well behaved throughout the day," said Rev Towns, who is curate of the Asfordby Group of Parishes.
"It was wonderful to spend the day in our beautiful Melton countryside.
"I also got to see people en route and chat to them.
"And I had lots of lovely comments and questions about Charlie."
Rev Towns has held horseback services in the past and plans to resurrect them.