Large Roman farm unearthed on route of new Melton relief road
Evidence of a large Roman farmstead has been unearthed during work to build the partial bypass in Melton Mowbray.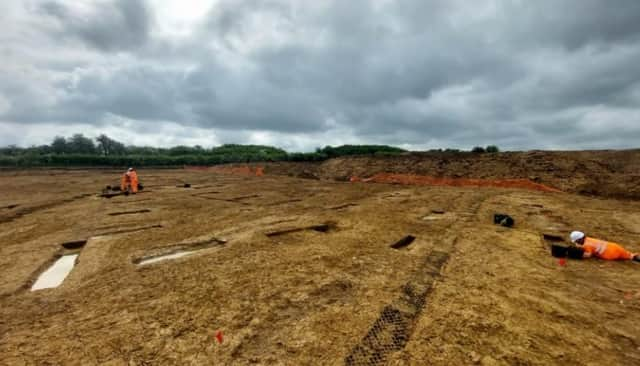 Contractors, Galliford Try, say the North and East Melton Mowbray Distributor Road (NEMMDR) project is 'progressing well' although the completion date is now estimated at late 2025 rather than the summer of that year.
Residents will have seen big centres of activity on Burton Road, Melton Spinney Road and Nottingham Road on the outskirts of town as land is prepared to lay down the road surface.
The new route, extending 7.1km across the north and east of Melton, will connect the A606 Nottingham Road with the A606 Burton Road in a bid to filter traffic away from the town centre.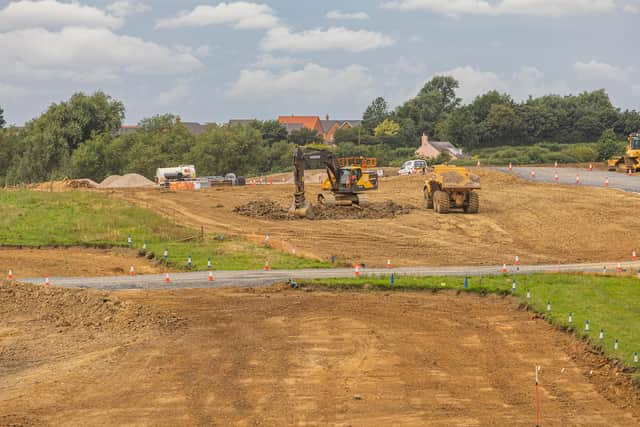 During the work, archaeologists have been given the opportunity to uncover parts of the town's history going back thousands of years.
County Hall say a range of sites have been excavated since work started on the NEMMDR in March and the remains of a large Roman farmstead complex was one of the biggest finds.
Evidence of domestic and agricultural activity was found, such as animal bone and a small quantity of metalwork, including a copper alloy brooch.
Archaelogical Research Services, which has been conducting digs, said: "The remains of a large Roman farmstead complex have also come to light.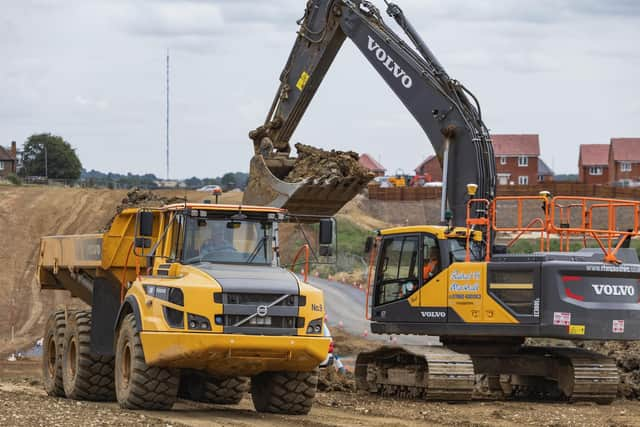 "Enclosure ditches and associated features have produced large quantities of Roman pottery and animal bone, fragments of a clay oven, a loom weight, a bone comb and a metal brooch.
"Fragments of Late Iron Age pottery suggest that the site could have originated in the later prehistoric period, transitioning into the Roman period."
The organisation added: "Significant among the archaeological discoveries were cultivation rows with planting beds, the fills of which included fragments of Roman pottery.
"Planting beds of this nature are considered to be associated with a Mediterranean style of plantation agriculture such as viticulture, or the production of other fruit bearing trees, and would more likely be a commercial endeavour.
"Roman farms where plantation agriculture was practised have previously been found in Northamptonshire, Bedfordshire, Cambridgeshire and Hertfordshire, although one is known in the Leicestershire area, at Rutland.
"The Melton Mowbray site is the furthest north of those to be investigated and a range of new scientific techniques, including geochemical analysis, are being deployed to find out as much as possible about how the site functioned."
The oldest finds unearthed so far on the relief road route are flint artefacts which date back up to 10,000 years ago to the Mesolithic period.
"The Eye valley was clearly a landscape favoured by humans who lived by hunting animals, fishing and gathering edible plants," say the archaeology group.
There has also been evidence uncovered of later prehistoric burial and farming settlements.
They added: "The remains of a probable small circular barrow have been discovered.
"This surrounded a pit that contained an adult, possibly female, inhumation interred in a crouched position.
"There were no objects found in direct association with it, so it is hoped that a radiocarbon can be obtained from a sample of the bone.
"Several field boundary ditches, likely forming various field enclosures, potential structural remains and clusters of pits have been recorded.
"These have procured fragmented animal bone and pieces of handmade pottery vessels indicating the remains of an Iron Age farmstead."
Poor weather this summer has provided challenging conditions for building the road as teams have been engaged in putting in drainage systems and moving earth to level out the ground ready for the road to be laid down. Around 12km of fencing has also been put in place.
The contractors have been keen to avoid disrupting life for Melton residents and one way of doing this is to build a haul road so their vehicles can stay away from the town's existing road network.
Jamie Missenden, regional manager at Galliford Try, said: "The project is progressing well, and we are working hard to minimise disruption to with part of our commitment being the construction of a haul road which runs the full length of the scheme.
"This road will enable us to move our workforce and construction traffic across the project reducing traffic congestion on the local road network and carbon emissions
"We'd like to thank the community and its continued co-operation and support will ensure the successful delivery of the project on behalf of Leicestershire County Council. "
Building the road is also expected to improve air quality locally, provide faster journeys, stimulate new economic and employment opportunities and improve access to future housing.
There will also be provision for cyclists and pedestrians to travel along the new road safely.
County Hall cabinet member for highways and transport, Councillor Ozzy O'Shea, said: "The distributor road is one of our biggest road-building projects to date, bringing with it a massive amount benefits, both economic and environmental.
"With work progressing on schedule for a late 2025 opening, we look forward to seeing the road in use."
Inflation and soaring construction costs have taken the cost of the scheme – which is being paid for the government, county council, the Leicester and Leicestershire Local Enterprise Partnership and developer contributions – from the initial £63.5million to around £116million.
Six new roundabouts are being built on the route, which will cross Scalford Road, Melton Spinney Road, the A607 Thorpe Road and the B676 Saxby Road.
Funding issues have delayed plans for a southern link, which would connect Burton Road with the A607 Leicester Road if it goes ahead.
Click HERE to keep up with work on the scheme, sign up for a regular newsletter, view drone footage of the latest works and see the latest on road closures.