Jock was 'a true legend of Melton'
The funeral of a former builder described by his family as 'a true legend of Melton' will be held on Thursday.
Tuesday, 2nd March 2021, 12:59 pm
Updated
Wednesday, 3rd March 2021, 2:43 pm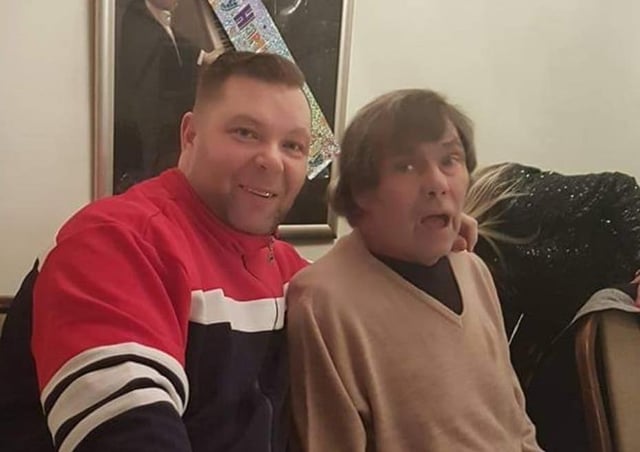 Jock Underwood, who has passed away aged 72, pictured with his son, Martin EMN-210203-085639001
William 'Jock' Underwood passed away last month aged 72 after suffering for a decade with Kennedy's disease, a rare neuromuscular disorder.
Friends are invited to gather in the town's Market Place as his funeral cortege waits for a few minutes outside The Grapes pub, where he was a regular for many years.
His daughter-in-law, Jackie, told the Melton Times: "I put a post up on Facebook about Jock passing away and there were over 400 comments from people who knew him.
The late Jock Underwood pictured on his 70th birthday with daughter-in-law Jackie and step-daughter Mandy EMN-210203-125400001
"It was unbelieveable. There was not one person could say a bad thing about that man. He really was a true legend of Melton."
He loved his job as a builder after training as an apprentice with Ray Wood upon leaving school.
Jock worked for many years with Apex and helped build some of the most recognisable buildings in Melton, such as the police station, fire station and Tesco supermarket.
He also enjoyed building houses, patios and walls and was also a skilled plasterer. Jock also worked as a builder overseas on jobs in Germany.
Jock Underwood (second from right), who has passed away aged 72, pictured with, from left, his son, Martin, grandson Spencer and partner, Julie EMN-210203-085629001
He enjoyed relaxing at the end of a working day with a few drinks with friends in The Grapes.
"He loved it down that pub," said Jackie (52). "He used to help the old landlady, Thelma, a lot, and she was like a mother to him."
Jock, who was born in Melton and lived all his life in the town, leaves a son, Martin (49), who described him as 'a brilliant father', and a grandson, Spencer.
He was step-granddad to Jackie's children for 20 years, Abby, Jack and Stephen. Jock was also step-father to Mandy Underwood and step-grandad to her seven children. And he was also step-dad to Stewart, Sally and Steven.
Jock, who enjoyed doing crosswords and watching movies, lived the last 23 years of his life on Sherwood Drive with his partner, Julie, and was step-granddad to her granddaughter, Jacey.
He also leaves a brother, Dave, and sisters, Anne and Betty, while another brother, Stan, passed away some years ago.
Jock was still working as a builder up until nine years ago but his health gradually deteriorated.
Jackie said: "He wasn't very mobile, he was walking with a frame but, considering his muscles were wasting, he fought right to the end.
"He was adamant he wouldn't go in a wheelchair and that he would walk everywhere."
Sadly, he went downhill in the last year and, after developing aspirational pneumonia, he passed away on February 21 at Nottingham City Hospital with family members around him.
His funeral will be at Loughborough Crematorium, at 4.15pm on Thursday.
Numbers are restricted but friends who want to watch the service online are asked to send a private message to Martin or Jackie.
The cortege will pause for a few minutes en route. Jackie added: "We would like any of his friends or anyone who knew him to be around the Market Place area between 3pm and 3.20pm. We are going to stop for a few minutes to let everybody have a chance to pay their last respects."
Family flowers only are requested and donations can be made to the Treble One Trust, a Melton charity which supports people with motor neurone disease (MND).