'Jason was a very kind guy who gave more than he took'
Friends and villagers are expected to line the streets of Bottesford on Friday afternoon for the funeral of one of the leading lights of the Friendly Bench concept which helps people in rural communities feel less isolated.
Wednesday, 17th March 2021, 4:16 pm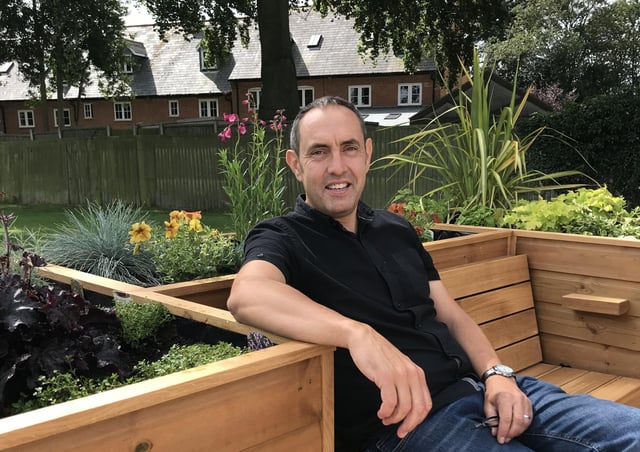 Jason Young, who has passed away aged 49, at the Friendly Bench in Bottesford EMN-210317-142941001
Jason Young passed away earlier this month after a short battle with bowel cancer, aged just 49.
He was married for nearly 20 years to Lyndsey, the founder of the Friendly Bench social enterprise, which began in their home village and has since been rolled out to other parts of the country, including Chester, Rugby, Rotherham and Ipswich, to allow people to sit and chat with others.
Jason was treasurer for the organisation and a passionate champion of the initiative, even starting up special events for Bottesford men to meet up and socialise.
Jason Young, who has passed away aged 49, with wife Lyndsey, at the Friendly Bench in Bottesford EMN-210317-142953001
Ahead of her husband's funeral, a heartbroken Lyndsey told the Melton Times: "Losing Jason was completely unexpected.
"He was still so young and this is not something we ever expected to have to go through.
"Jason was only diagnosed in July when he went into hospital.
"I've had hundreds of messages and lots of cards and many people have said they would like to line the streets to pay their respects on Friday."
Jason was born and brought up near Boston and he first hit it off with Lyndsey because of their shared love of travel.
He worked in construction for many years, which involved regular trips away from home, with projects such as shopfitting and work at military bases.
But in recent years he moved into property developing so he could spend more time with Lyndsey and their children, Harvey and Frank.
Jason also enjoyed getting involved with the Friendly Bench social enterprise and started up regular 'blokes, brew and banter' sessions for local men, with hot and soft drinks rather than beer.
"He really got the concept of the Friendly bench and was so proud of what it has done for people," said Lyndsey.
He was always a fit man, running for Grantham Athletics Club and taking part in half and full marathons.
Numbers will be limited for Friday's funeral but the family have invited friends and well-wishers to pay their respects at the roadside as the cortege leaves their Bottesford home at 3.45pm - people are asked to gather around the junction of Belvoir Road and Grantham Road, near The Bull Inn and the butcher's shop.
Lyndsey added: "Jason was a very kind guy who gave more than he took.
"Cancer is such a cruel disease and he deserved so much more from life."