Fundraisers walk over 1,000-degree coals for hospice
Dozens of brave souls have raised thousands of pounds for Dove Cottage Day Hospice by walking barefoot over red hot coals.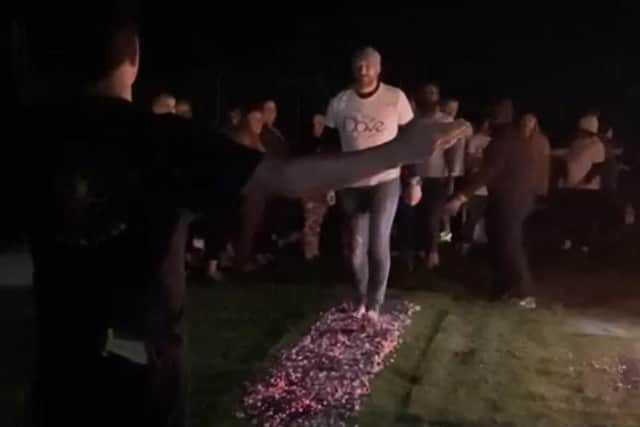 The remarkable effort, in aid of the Stathern-based hospice, took place over a course laid with coals burning to a scorching heat of 1,000 degrees.
There were 35 participants and 150 spectators at the fundraiser, which generated £4,500, at Skydive Langar.
Some of those who took part said 'It was very empowering and I was buzzing all night', 'It was incredibly inspirational' and 'I can't believe I actually did it'.
For safety of all participants, the event began with a seminar from a certified firewalking master, who coached them to prepare for the walk, discussing topics including the psychology of experience, the physiology of success and confidence, and removing limiting beliefs.
Instructor Barry Collins said: "Firewalking is not just about walking on fire.
"It offers the opportunity to explore the limiting beliefs some people hold, whilst providing the environment to discover the resources we have inside to overcome fear, uncertainty and challenge.
"Most anyone can do it – you just have to make the decision."
The event was kindly supported by local businesses Skydive Langar and Aly Greenway Workplace Training with all profits generated being put towards hospice services.
There were magic, fire and glow-poi performances from local entertainment company Circus Wunderbar, which were enjoyed by families as they waited eagerly to witness their loved ones brave the coals.
Firewalking UK is offering to host any individuals that would like to raise money in aid of the hospice at their regular firewalking events.