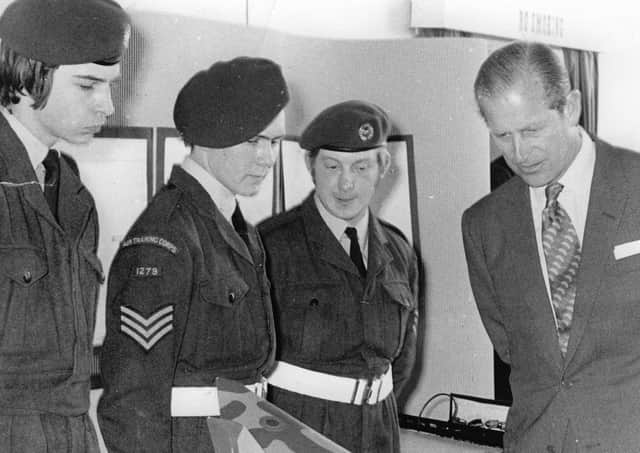 Members of the Melton ATC squadron pictured in 1973 during a Royal visit by the Duke of Edinburgh EMN-210904-170829001
The nation has been in mourning since Buckingham Palace broke the sad news at lunchtime that The Queen had lost her husband of 73 years.
Mayor of Melton, Councillor, Malise Graham, said: "I am deeply saddened by the news of the passing of The Duke of Edinburgh.
"Throughout his life he has provided Her Majesty Queen Elizabeth II with loyal and loving support in her role as leader of the UK and the Commonwealth, being wise counsel to her as well as a loving and devoted husband.
Mayor of Melton, Councillor Malise Graham EMN-210904-173152001
"As part of his service he was Patron, President or a member of over 750 organisations and his legacy will live on with his Duke of Edinburgh Award scheme which has helped so many young people since its founding in 1956."
Prince Philip passed away just two month before his 100th birthday and arrangements are now being made for his funeral.
He made several visits to Melton, including one occasion in 1973 when he met members of the town ATC squadron and learned about their activities.
Councillor Graham added: "He has been a dedicated father, grandfather and great-grandfather to his family and our thoughts are with Her Majesty Queen Elizabeth and her family at this time.
Lord Lieutenant of Leicestershire Mike Kapur EMN-210904-173208001
"On behalf of the Borough of Melton, I would like to thank The Duke of Edinburgh for his long and dedicated service to us all and as a mark of respect, during the period of mourning, the flags at Parkside Council Offices will be flown at half mast."
HM Lord-Lieutenant of Leicestershire, Michael Kapur OBE, added his tribute to the many paid today to Prince Philip: "I am deeply saddened by the death of The Duke, who dedicated his life to the service of our country and to providing unwavering support to The Queen.
"I wish to extend my sincere sympathy to The Queen and all members of the Royal family at this very sad time."
Councillor Pam Posnett MBE, who represents Melton on Leicestershire County Council and who is currently chair of the authority, commented: "We are all deeply moved to hear of the death of His Royal Highness The Duke of Edinburgh.
Councillor Pam Posnett, chair of Leicestershire County Council EMN-210904-173229001
"I speak on behalf of the elected members and those working for the County Council in expressing our collective sadness.
"As a mark of respect, the Union and County Flags have been half-masted at County Hall."
She added: "I am profoundly saddened by the news of The Duke's passing, and I wish to extend my sympathies to The Queen, who has lost her life-long loyal supporter and loving husband."
Rutland and Melton MP, Alicia Kearns said in her tribute: "Prince Philip devoted his life to serving the United Kingdom.
Rutland and Melton MP, Alicia Kearns EMN-210318-145248001
"From a naval cadet at Dartmouth, to his retirement as a working member of the Royal family in 2017, he lived a life that defined the very concept of service.
"From his years in the Royal Navy to the creation of the Duke of Edinburgh Awards Scheme, he leaves a legacy that goes far beyond the steadfast companionship he gave to Her Majesty the Queen for over 60 years.
"My thoughts are with Her Majesty and the Royal Family at this deeply sad time."
Due to the coronavirus pandemic, and to ensure the safety of our community, the council say there will be no allocated area for floral tributes to the Duke of Edinburgh from the public.
Residents are instead encouraged to display any tributes, such as a written message, flowers or a plant, within their own property boundary.
You are also invited to go online at www.leicestershire.gov.uk/book-of-condolence to sign a virtual book of Condolences through County Hall.
***Did you meet the Duke of Edinburgh? If you live in the Melton area or are originally from Melton, let us know about how and why you met him and send any photos you have of the meeting via email to [email protected]