First ever Meet Melton showcase event to take place
A brand new event in Melton town centre tomorrow (Saturday) will give people the chance to meet representatives of local clubs, groups, charities and businesses.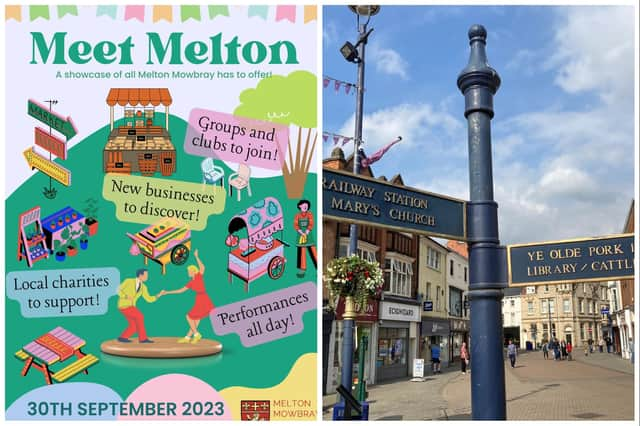 Melton Melton, which will be centred around Market Place, is billed as a unique showcase for everything the town has to offer.
Melton Mowbray Town Estate is hosting the event alongside its regular Saturday street market.
Stalls will range from the local Rotarians and Lions clubs to MV16 sixth form college and SMB College Group to the local Scouts group.
Staff from the baby unit will also be there alongside charities such as Pablo's Horse Sanctuary and the local support group for prostate cancer.
A town estate spokesperson said: "This will be an opportunity for Melton clubs, groups, charities, and businesses to gather together in one space to shout about what our town has on offer.
"This will run alongside our usual market and our fabulous traders are very excited to join in."
Live performances and demonstrations will also be given during the day, which runs from 10am to 4pm.
The following organisations will be in attendance at the first Meet Melton tomorrow:
4th Melton Mowbray (Livingstone) Scout Troop;Becky B & C Herbs and Spices;Big Bums and Little Bums - Fitness & Family Fun;Black Dragon Games - Melton;Capella Choir;Confidence2Care;Leicestershire County Council Public Health;Dive Rutland;FOAKS Friends of Ab Kettleby School;GoLearn Leicestershire;Healthwatch Leicester and Healthwatch Leicestershire;How Sweet, Melton;Hypnocares Clinical Hypnosis;Katie Rose;Leicestershire Fire and Rescue Service Melton Mowbray Fire Station;Melstrum Melton's Award-Winning Ukelele Orchestra;Melton Carnegie Museum;Melton Mowbray Lions Club;Melton Music Tuition;Melton Mowbray Rotary Club;Melton Theatre;Melton Vale Sixth Form College;Nennie's Bakery;Nupsala Musculoskeletal ClinicPablo's Horse Sanctuary near Melton Mowbray;Performing Stars Academy - Melton Mowbray;Royal Air Forces Association Melton Mowbray Branch & Tornado Club;SMB College Group;Star Magic Parties;Support And Connections;The Dog House. Luxury Dog Grooming & Canine Spa;Kathryn Saunby Art Studio;The Melton Musical Theatre Company - TMMTC;Melton Sports representing The Romy Fund;Melton Space;St Mary's Birth Centre, Melton Mowbray;Melton Prostate Cancer Support Group.