Alicia Kearns reflects on her first year as Melton's MP
A year after Alicia Kearns became only Melton's second ever woman MP, declaring it was 'the greatest honour of my life', she has reflected on a remarkable period when the borough, and the world, was brought to a standstill by a deadly virus.
Thursday, 31st December 2020, 3:22 pm
Updated
Thursday, 31st December 2020, 4:20 pm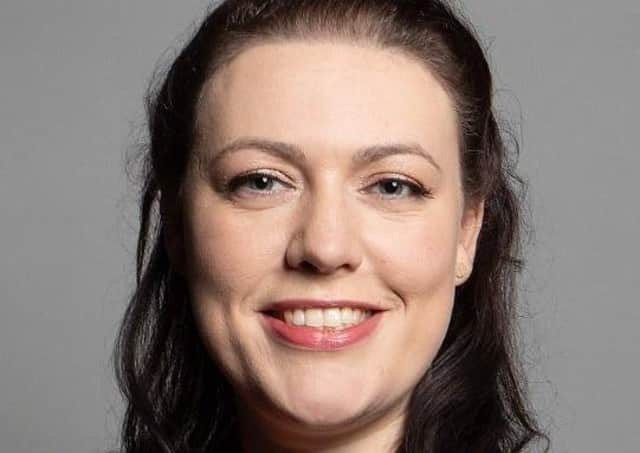 Alicia Kearns, MP for Rutland and Melton EMN-201224-115415001
Mrs Kearns swept to power in a traditionally safe Conservative seat with a majority of more than 26,000, succeeding Sir Alan Duncan, who stepped down after 27 years in the role.
A resident of Langham in Rutland, with her husband and young son, she is expecting her second child early in the new year.
We've been talking to Mrs Kearns about her first 12 months as an MP and her aspirations for 2021. This is what she told us:
Alicia Kearns, MP for Rutland and Melton, with Prime Minister Boris Johnson EMN-201224-115355001
NICK RENNIE: You have completed your first year as an MP - what have you enjoyed about the job so far?
ALICIA KEARNS: It has been an enormously difficult year for our communities. People come to MPs when they have nowhere else to turn, and that has been the case for many people throughout the pandemic. While it can be extremely challenging to get people the outcome they deserve, it is an honour to have
been able to help so many thousands of constituents. It has also been such a joy getting to meet so many wonderful organisations, businesses and people and exploring more of our truly extraordinary area, but most of all seeing the strength of our communities as we all came together to defeat Covid-19.
NR: How has the job differed from how you imagined it would be?
Alicia Kearns MP visits Long Clawson Dairy EMN-201224-121537001
AK: I don't think any of us have had the year we expected, and that's certainly true for my role. For me, the biggest difference has been that rather than being in London Monday to Thursday, I've been able to be here in Rutland and Melton for most of the year supporting residents in person, which has
NR: What would you say have been your biggest local achievements as an MP over the last year?
AK: I am pleased that as a result of my work, the government introduced a new discretionary grant programme to help businesses who were unable to secure support through the initial business rate determined system. This provided over £600 million to businesses across the country, including our cattle market, Round Corner Brewing, businesses in Pera Business Park and many more. I'm also pleased that I was one of the MPs who secured the £10,000 grant programme for dairy farmers across our country.
Alicia Kearns poses for an image to support her campaign to get all NHS Trusts to ensure women have partners with them during all stages of labour and all major scans EMN-201224-121558001
Nationally, I secured the government decision to exempt children under five from national lockdown meeting restrictions so parents from two households could meet together, and on my maternity campaign we finally have NHS England instructing all hospitals that women must not give birth or attend scans alone, and rapid COVID-19 tests are now being used in maternity settings.
Away from the pandemic, I'm pleased that I have been able to deliver important steps forward on my commitment to make the A52 junction safer at Bottesford, on more stops at Bottesford train station, and a £50,000 pot to investigate a new train line from Melton to Nottingham. I'm also progressing hard my work for a new GP practice in Melton. As founder of a Parliamentary Group on Geographical Indicators I've also played an important role in protecting Stilton and Melton Mowbray pork pies in trade deals.
NR: Was there anything you think you could have done differently and do you have any regrets?
AK: I've certainly learnt a great deal this year, but I have no regrets about becoming Rutland and Melton MP. I am deeply saddened by how much the virus has affected all of our lives and the enormous stresses it has caused. It's been enormously difficult to help everyone as quickly as I would have liked, cases can be enormously complicated, and some weeks thousands of residents email me.
Rutland and Melton MP Alicia Kearns calls for a second GP surgery to be provided in Melton during Prime Minister's Questions EMN-201224-114948001
NR: What impact has the coronavirus pandemic had on the challenges of getting used to the job of being an MP?
AK: The biggest challenge I would say is responding quickly and comprehensively to constituents as swiftly as possible when so many cases require weeks of challenging bureaucracy or an organisation to get the resident the result they need. Government isn't known for moving at speed, but with a pandemic the actions you need to take sometimes change hourly, so securing practical ways to bring about national policy changes quickly enough can be very hard. I am really proud that my team and I have helped and spoken to well over 10,000 constituents throughout this period, and we are ready to help anyone who needs it.
NR: Your predecessor, Sir Alan Duncan, spoke about the negative impact of social media on the role of an MP. Is this something you have found and, if so, how have you dealt with it?
AK: Social media is a blessing and a curse. On the one hand, it can be an extraordinarily helpful way to get information out urgently to constituents and local stakeholders during a time of crisis, such as the pandemic. However, there is not a day that goes by where I do not receive unacceptable abuse.
There's no excuse for the way some people write, and speak, to both me and my team and I will always protect my team as much as I can.
NR: Congratulations on the imminent birth of your second child. Has it been a challenge coping with pregnancy along with the demands of being a new MP and will you be taking a period or maternity leave?
Alicia Kearns at this year's British Pie Awards, where she was one of the judges EMN-201224-121547001
AK: I expect to take around two months of maternity leave. Thereafter, I'll gradually be in the House of Commons or out and about in the constituency more and more, but will be focused on continuing to help constituents, work with our local councils, push for local issues and keep all constituents
informed on the latest Covid-19 news and guidelines. I've a fantastic team to help me with that, but anyone who needs my urgent intervention even during the initial two months I will be assisting.
NR: As we look forward to 2021 what issues specifically in the Melton borough are you aiming to address as priorities over the next 12 months?
AK: My biggest priority as we enter the New Year is ensuring that we are best prepared to recover from Covid-19. As promised, there was enormous hard work to get vaccination centres established in Melton and Oakham before Christmas and I am so grateful to everyone who has worked to make this happen and is undertaking the vaccinations. I'm delighted thousands of constituents were vaccinated before Christmas Day. There is still a long road ahead, but we have hope and a pathway forward. Many readers will be aware that the Prime Minister backed my campaign for a new GP practice in Melton, and this is most definitely a key priority for me going forward along with working to secure delivery of the Melton Mowbray Distributor Road in full. I am working hard with councils and central government to find a solution. I will continue to work to get more money from central government for our rural area, to improve our rail services, to solve the issues with the A52, tackle rural crime, and to support our farmers as we leave the EU.
Alicia Kearns lays a wreath on Remembrance Sunday EMN-201224-115405001