Firefighters tackle blazing bus at Long Clawson
Firefighters were alerted after a bus burst into flames last night (Thursday) in Long Clawson.
Friday, 31st July 2020, 9:21 am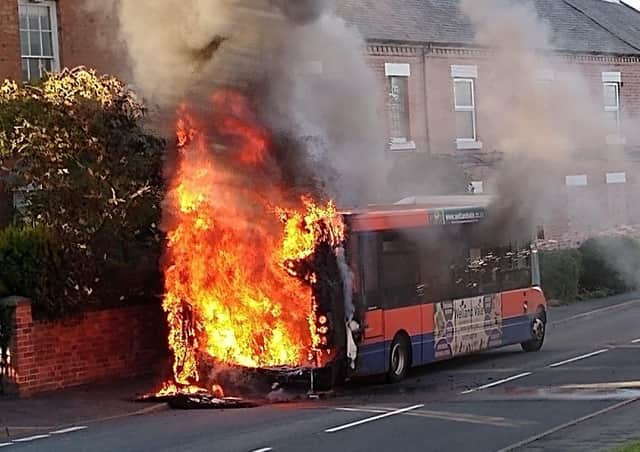 Flames rise from a bus after it caught fire in Long Clawson last night PHOTO Simon Majury EMN-200731-090025001
Two crews from the Melton fire station were deployed to the scene, in West End, close to the dairy, when it was reported at 7.14pm.
It is understood that only one passenger was on board at the time and both she and the driver escaped from the vehicle without injury.
Gee Robinson posted on social media shortly after the incident began: "Be careful going through Long Clawson, I'd avoid it if you can, the bus I was on caught fire because it overheated.
The blazing bus at Long Clawson pictured last night EMN-200731-091321001
"It was only me and the bus driver on but we got off safely before it fully went up!!!
"I just hope all the residents are okay that live near there."
Simon Majury posted this striking photo on the Neighbourhood Watch Melton Mowbray Facebook page.
He commented: "Main Road closed through Long Clawson right now due to bus on fire outside dairy!"
A spokesperson for Leicestershire Fire and Rescue Service said: "A call was received to a bus involved in fire - all persons had been removed from the bus."
Crews used breathing apparatus and a hose reel jet to fight the fire before bringing it under control around 8pm.
The bus which was destroyed in the fire was operated by Centrebus, who have not yet commented on the incident.