Melton bypass objectors may force public inquiry on road
A public inquiry may have to be held on Melton's partial bypass plans following 'a number of objections' to the proposals for buying up land for the new road.
Thursday, 25th March 2021, 6:00 pm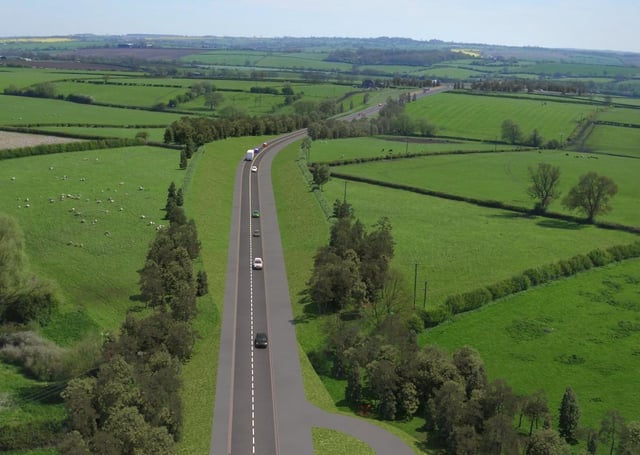 A still showing simulated drone footage of the planned Melton Mowbray Distributor Road (MMDR) EMN-210325-175512001
Planning permission and funding is already approved for the £63.5million Melton Mowbray Distributor Road (MMDR), which will pass across the north and the east of the town to help relieve congestion.
Work is due to start in a year's time and it is hoped that vehicles will begin driving along the 7km single carriageway route by the summer of 2024.
Leicestershire County Council submitted Compulsory Purchase Order (CPO) and Side Roads Order (SRO) notices for the scheme to the government in October but, because of objections to some of the plans, the Secretary of State says he may need to call a public inquiry to resolve the issues.
The preferred route for the planned Melton Mowbray Distributor Road (MMDR) EMN-210325-175404001
County Hall has been granted an extension to its efforts to placate the objectors and the authority says it is hopeful an inquiry will not be needed.
A county council spokesperson told the Melton Times: "We've received a number of objections to the distributor road proposals and we're currently discussing these objections with the relevant parties.
"It's our intention, if at all possible, to resolve the concerns by agreement.
"It is not clear at this stage whether an inquiry, which is a common procedure on major road schemes, will be necessary."
If the objections are resolved, contractors can begin preparatory works before starting construction, such as preparing building compounds and carrying out utility diversions and fencing work.
The approved MMDR will connect the A606 Nottingham Road, Scalford Road, Melton Spinney Road and the A607 Thorpe Road, before rejoining the A606 Burton Road.
It is hoped that a southern link - connecting Burton Road with the A607 Leicester Road - will be built at the same time but that section still requires funding and planning approval.
We reported this week that a government contribution of £15million towards the £28million cost of a south link is dependant on the county council and Melton Borough Council resolving a dispute between the authorities.
Negotiations are continuing and if an agreement is struck the road can be built, with the remaining cost coming from developer contributions for the thousands of houses due to be built in that part of town.