How the north of Melton could be transformed in the next decade
Developers have joined forces to jointly seek views from residents on their plans to build more than 1,000 new homes and provide a range of community facilities to the north of Melton.
Tuesday, 9th March 2021, 5:44 pm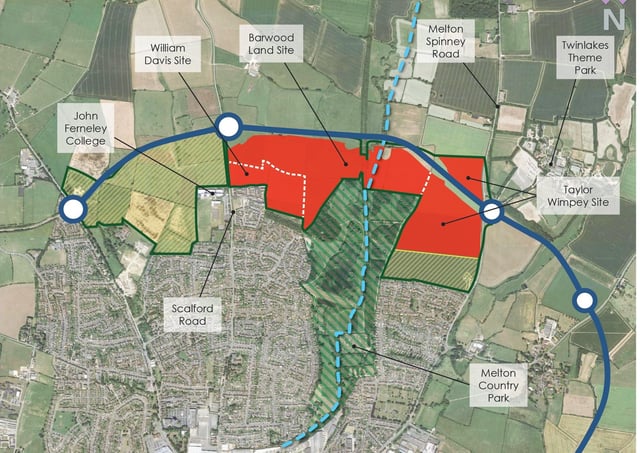 GREEN LINE - Melton North Sustainable Neighbourhood Allocation; RED HATCHED AREA: Site boundary for developers; YELLOW HATCHED AREAS: Sites with planning permission; DARK BLUE LINE: MMDR route; LIGHT BLUE DOTTED LINE: Jubilee Way footpath EMN-210903-133922001
A community hall, sports pitches and changing rooms, allotments, children's play areas and land for a potential new primary school are being proposed as part of multi-million pound developments for the so-called Melton North Sustainable Neighbourhood.
Proceeds from the house building will also help pay for the approved Melton Mowbray Distributor Road (MMDR), which will divert traffic to the north and east of the town when it is expected to be completed in the early summer of 2024.
Barwood Land, Taylor Wimpey and William Davis Homes, which are preparing to submit outline planning applications for their portions of the northern development project, have this week launched a public consultation into their proposals with residents asked to respond by March 26.
The developers will provide 1,230 of the 1,700 homes allocated in the Melton Local Plan, which was adopted in 2018 and guides development strategy for the town until 2036.
A spokesperson for the three companies said: "We are consulting jointly on our proposals to provide clarity for how the schemes link together.
"We want to create a high-quality new neighbourhood which will help to meet Melton Mowbray's housing and community needs.
"While coronavirus restrictions mean that it is not possible to hold physical consultation events, we are keen to hear people's views and would like to encourage as many people as possible to visit our website and provide feedback."
The site area owned by the three developers comprises land located between Scalford Road and Melton Spinney Road immediately north of Melton Country Park.
A co-ordinated masterplan shows the location of the new homes, which will be designed to be energy-efficient with low carbon emissions, and their proximity to a series of green spaces and it also includes a new bus route as well as a network of pedestrian and cycle routes.
The buses and other vehicles would travel along a new spine street, which would provide an access to the new properties.
​Provision has been made for a new community hall and a changing room pavilion close to the sports pitches.
Land for a potential additional primary school has been allocated to the north east of the site, within easy reach of the new MMDR, which bounds the north of the whole development area.
There are plenty of environmental enhancements being proposed, including habitat and wildlife improvements, a community orchard and allotments to the west, plus an open space buffer alongside the country park with new landscaping.
A development document prepared by the developers reassures Melton residents that the new homes and features will not spoil their enjoyment of the country park.
It states: "The proposals include an open space buffer alongside Melton Country Park where new woodland, thicket, tree and hedgerow planting will be provided along the site's boundary with the country park.
"The publicly accessible sports pitches and primary school's playing fields will also help to form a soft edge to the country park, which will extend the character of the country park into the site and minimise the impact of the proposals on the overall landscape."
The developers are keen to empahsise the amount of green space being provided for 21 hectares (53 acres) in total - and the creation of a new public park in that part of town called Jubilee Way Park.
The route of the Jubilee Way footpath, which passes through the site, would be retained as part of the plans and would pass through the new park.
Developers say they will use a range of sustainable drainage systems and techniques to ensure the new development does not increase the risk of flooding in the area.
They also point out they've been liaising with officers at Melton Borough Council to ensure they are working within existing planning policies and strategies.
Outline planning applications will be submitted shortly after the end of the public consultation and if the council approves them work would start by 2023 or 2024 with a phased completion up to 2034.
Further details about the proposals are available on the project online at www.meltonnorth.co.uk - together with a survey which residents can complete to provide feedback.
An informative leaflet has also been delivered to residents living closest to the proposed sites.
Anyone who does not have access to the internet and who would like further information is encouraged to write to FREEPOST MN or call FREEPHONE 0800 1583218.