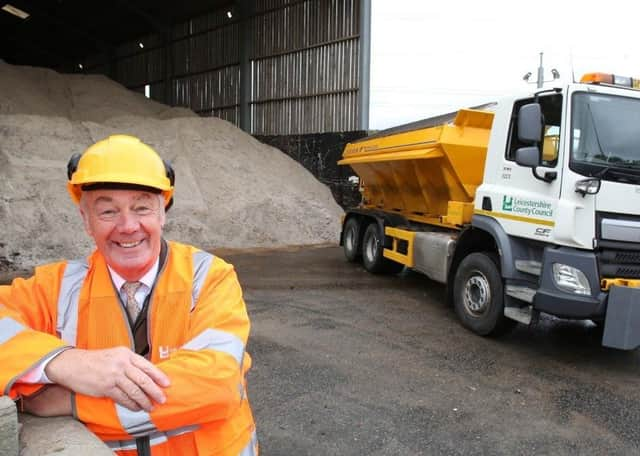 County Councillor Trevor Pendleton at a Leicestershire gritting barn EMN-210129-163709001
And a yellow warning of ice and snow has been issued by the Met Office for Leicestershire between Monday morning and Wednesday night.
Councillor Trevor Pendleton, county council cabinet member for highways and transport, said: "Our highways teams are constantly monitoring the weather and are ready to respond at a moment's notice.
"Our gritting team have been exceptionally busy over the past few weeks gritting key routes and road networks, helping people continue their essential journeys."
This year, the council's grit barns are stocked up with 18,000 tonnes of rock salt, ready to tackle the worst of the winter weather.
Community snow wardens also do their bit by gritting paths – and local farmers help out by fitting snow ploughs to their tractors and helping the council to clear roads where necessary.
The county council does not grit every road - go to www.leicestershire.gov.uk/winter-weather to check if your journey is gritted.
Gritting teams are continuing to respond to reports of flooding across the county.
Currently 18 roads remain closed and teams are working around the clock to ensure the roads reopen over the weekend.
Councillor Pendleton added: "Since January 14, we've responded to over 200 call outs relating to flooding and we've had up to six teams a day on the ground working on flood patrol and helping make deliveries of sandbags.
"It has been a huge group effort and I want to say thank you to every person who has helped."
Residents are urged to be prepared for flooding, even if they don't think they are at risk, by signing up for flood warnings, preparing their home, and checking their route before they make an essential journey and to drive safely by never driving through flood waters.