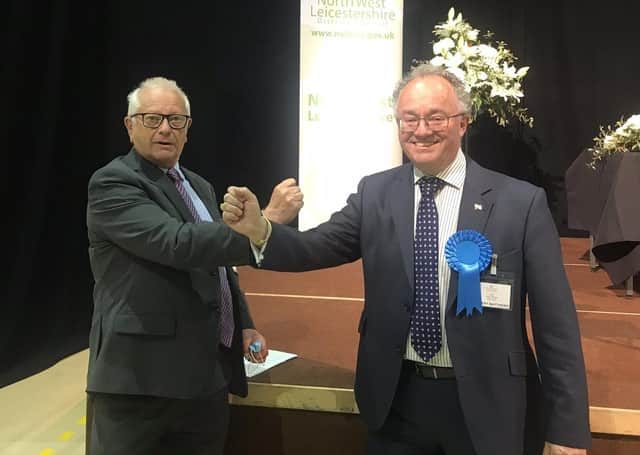 New Leicestershire and Rutland Police and Crime Commissioner (PCC), Rupert Matthews (Conservative Party), on the right, is congratulated on his election victory by outgoing PCC, Lord Willy Bach (Labour Party) EMN-211005-093143001
Conservative Party candidate, Rupert Matthews, was elected on Saturday as the results of Thursday's ballot were counted - Labour's Ross Willmott finishing runner-up.
Mr Matthews narrowly failed to secure the required 50 per cent of the votes on the first count but he was declared the winner when second votes were taken into account.
He polled 135,566 votes and Mr Willmott got 102,211 after Liberal Democrat candidate, James Moore, was eliminated after the first round of voting.
In his victory speech, Mr Matthew pledged to make 'Leicester, Leicestershire and Rutland a safer place for everyone who lives and works in the area'.
He said: "When Sir Robert Peel created the modern police force nearly two centuries ago he said 'the police are the public and the public are the police'.
"Nowhere is that more important than here with the very diverse population and cultures that we have.
"I want to make sure the police are on the front foot against crime and that fulfil Sir Robert Peel's vision of making the police part of our community and working with our communities.
"It's time for us all to pull together, to roll up our sleeves and get to work to make this manifesto and Sir Robert Peel's vision a reality."
Mr Matthews was Member of the European Parliament (MEP) for the East Midlands for two years from 2017.
In his manifesto he said he wanted to see policies introduced to clamp down on rural crime, burglary, knife crime, anti-social behaviour, domestic abuse and drug gangs.
He said he was keen for police to take proactive steps to stop crimes from taking place and he wants to ensure there is more support for victims of offences.
Labour's Sir Willy Bach had occupied the PCC role since 2016 - his tenure was extended an extra year due to the pandemic - but he decided not to stand again this time.
The Labour Party's share of the first vote count went down from 44.7 per cent to 33.28 per cent while the Tory share increased from 30.9 per cent (Neil Bannister) to 49.27 per cent. Liberal Democrats increased their vote share to 17.45 per cent from 12.7 per cent (Sarah Hill).
Less than one in three of the elecorate voted in the PCC ballot but the turnout was still a large increase from that that of five years ago, which was just 19.79 per cent.
Result of first vote count:
Rupert Matthews 121,252 (49.27%);
Ross Willmott 81,898 (33.28%);
James Moore 42,951 (17.45%).
Final result after second votes taken into account: