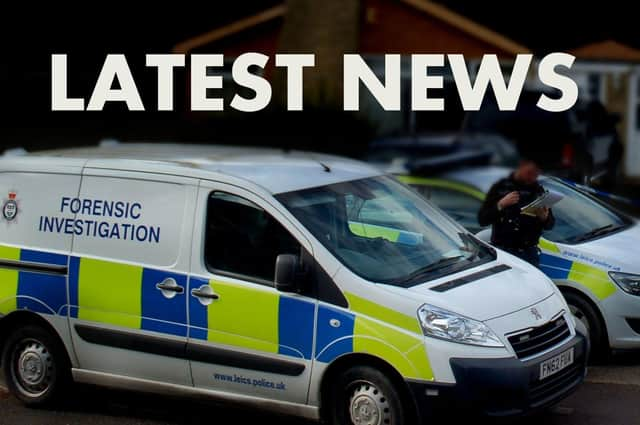 Police are investigating the incident EMN-220124-123425001
Four of the victims were treated in hospital for injuries following the incident, which took place shortly before 9pm.
The youngsters who were assaulted were students at Brooksby Melton College, studying on the programme linked with Leicester Tigers Rugby Club.
Two of them were brothers, aged 18 and 17, who were returning from their Norfolk family home to their accommodation at the Brooksby campus.
Melton railway station EMN-220124-123450001
Their father, who declined to be named, told the Melton Times: "Two guys approached them at the station to see if they were at the college and then a whole group of them returned with masks and gloves on.
"They ambushed them basically, they had knives and metal bars and just laid into them.
"My boys weren't injured but one boy in their group has an eye injury after he got hit on the head with a metal bar, one got beaten up and another had a badly injured arm."
He added: "One of my sons was absolutely beside himself when we spoke to him on the phone.
"I used to work in security and I know what post-traumatic stress is like and he was just not making sense at all on the phone.
"We had to calm him down.
"The other lad seemed OK but he had ended up fighting with a couple of them in the train station to protect one of his friends who was on the floor being kicked."
The incident, which has been reported to police, is believed to be linked to a feud the assailants had been involved in with someone from Brooksby Melton College, although none of those attacked were involved in that, according to the parent.
He added: "It is absolutely ridiculous if this is all because of some silly feud.
"Although some of the boys were injured we are just very relieved that none of them were stabbed."
The attackers stole a bag from one of the boys which contained a special laptop which supports him with his dyslexia for his studies, and another boy's bag.
Reacting to the incident, SMB College Group, which manages Brooksby Melton College, told us: "SMB College Group take the safety of our students very seriously. "We are really concerned by these events and are supporting our students and their parents at this present moment in what has been a concerning, off-site incident."
Leicestershire Police confirmed they were investigating last night's incident.
A spokeswoman told the Melton Times: "At around 8.45pm, a report was received stating the group of five had been attacked by another group at the railway station in Burton Street.
"Officers attended and located the victims.
"However the suspects had left the station.
"Four of the group were taken to the Leicester Royal Infirmary to be treated for injuries that are not life-changing.
"It was also established that two of the victims' bags had also been stolen."
Enquiries into the incident are continuing and no arrests have been made at this time.
Anyone who witnessed, or has information about, the incident and has not yet spoken to police is asked to call 101, quoting reference 22*044331.
***Melton people have been raising money online to pay for a new laptop for the lad who had his stolen since we broke the story about the attack on the teenagers.
So far £140 has been generated in just a few hours and there has also been an offer of a donated laptop.