Travel: Embracing the best of London's gritty East End
Jessica Roe finds a bubble of modern luxury in this creative and cultural mixing pot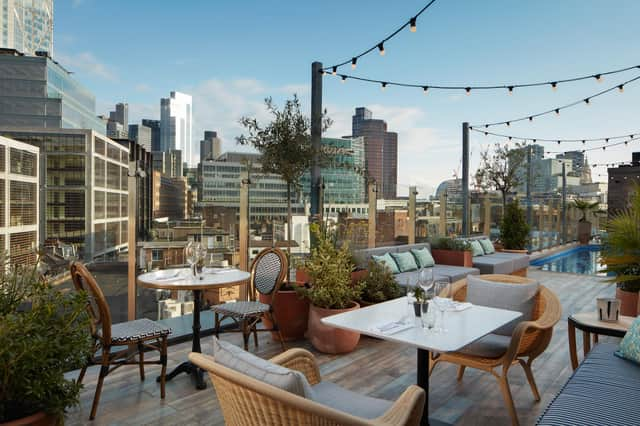 I grew up in the countryside but the flamboyant lights of London had always beckoned me, so I followed in the footsteps of Thomas Hardy and Charles Dickens characters and 'packed my bags to seek my fortune'. In the early 2000s I was a record label manager based at Fortress Studios in Old Street, East London. The studios themselves were a good metaphor for the area in general. It had a charming if slightly seedy atmosphere; rumours of a Banksy in the basement, absinthe at the unofficial bar and rock and roll legends stumbling out of the door and away into the edgy East End night. Old Street to Shoreditch, Brick Lane to Spitalfields was a hive of creativity, music, culture and electrifying chaos. It was also an area ripe for investment and redevelopment and as my time there ended, so began the great clean-up of Hackney.
Often such developments can feel like the soul of the area has been ripped out, and as I return nearly 20 years later, I'm hoping that Shoreditch has remained an artsy diamond in the rough and not succumbed to endless American candy shops and coffee chains as was the fate of Camden High Street.
I was bound for a weekend break at the hotel Mondrian Shoreditch, and as I walked from Old Street station to Curtain Road, my brain was already playing spot the difference. The street art is still here, the kebab shops are now independent coffee and doughnut shops, club Aquarium is long gone but The Old Blue Last stands strong (an East End boozer whose secrets could fill a thousand books).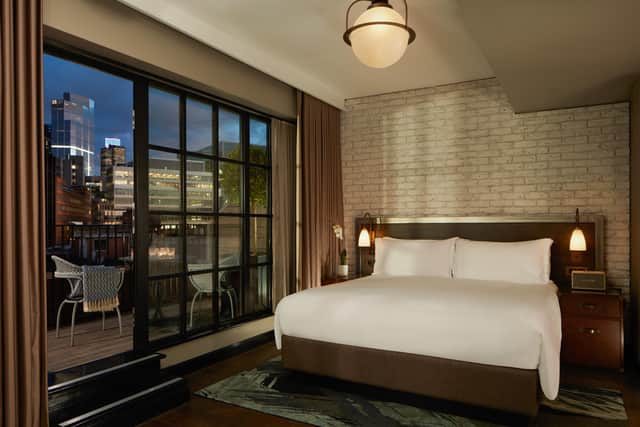 I arrived at The Mondrian, which is ironically directly opposite the Horse & Groom, the pub-slash-club who gave me my first DJ residency circa 2006! I can hardly believe it is still there, a sign that the 'scene' I loved so much is still here. The Mondrian globally boasts seven hotels based "in the heart of the most exciting cultural scenes in the world". They are seeking to carve their place amongst innovative and creative communities, a concept that feels like a good fit in Shoreditch.
Mondrian is a five-minute walk from Old Street underground station, or a ten-minute walk from Liverpool Street station in the opposite direction. The hotel is almost best described as a destination, boasting the 'wellness spa', a cafe and cocktail bar (Christina's Shoreditch), Californian inspired rooftop restaurant (Laurel's On The Roof), private members club (Curtain Club) and last, but by no means least, their Spanish restaurant Bibo by world-famous chef Dan Garcia.
As you enter the reception it's clear from the tropical plants, copper paneling and mirrored and illuminated 'selfie room' that no expense has been spared in creating an artistic and chic hub. Our room was bright and clean, with subtle nods to the alternative arts culture of the area such as an exposed wall with quirky paintings at the bed head, a replica of a Marshall amp bluetooth speaker and a large photo print of Debbie Harry in her heyday in the hallway. The bathroom boasted a fabulous sit-in steam-room shower, a welcome change from the standard bath with overhead shower.
Mondrian is a stone's throw from all of the activities one seeks when visiting London – galleries, markets, shopping, music venues, theatres, parks and exotic foods. We spent our day retracing old haunts from Shoreditch to Spitalfields by way of Brick Lane. The vintage clothing shops I knew and loved were still there, but now intermingled with unusual offerings such as IV drip therapy in the container units of Boxpark. Spitalfields market is decidedly more upmarket than in my day, but still plays host to some wonderful independent designers. We ate an eclectic selection of world foods from the undercover market on Brick Lane and browsed racks of vinyl at the infamous Rough Trade record store.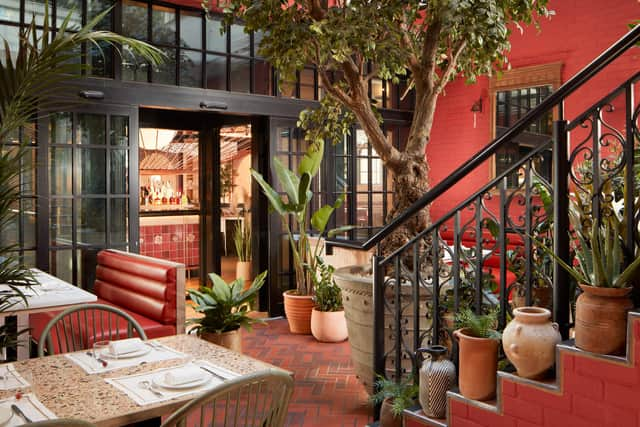 Spending time in the hustle of the markets can start to overwhelm your senses and so it was wonderful to retreat back to the sanctuary of the Mondrian. Their set-up means you can merrily occupy yourself for an evening on site, which we did by way of a well deserved massage in the spa and some exquisite cocktails in Christina's. We made our way to Bibo for dinner. It has a really vibrant atmosphere, punchy music and the food was wonderful. I particularly loved the oxtail brioche bun, flan con nata and the iberico de bellota with peppery olive oil and warm bread. We slept soundly on our extremely comfortable bed and a later checkout than is standard allowed for a lazy breakfast overlooking the city at Laurels on the roof.
We ambled towards home by way of the jostling crowds at Columbia Road flower market, pausing to watch a graffiti artist painting a giant mural of Maradona. As I sipped authentic chai tea and observed the artist at work, it struck me that the core of what has always attracted tourists, creatives, vintage lovers and musicians to this area is still the same - only a little less rough around the edges. New money, cleaner streets but still the same vibe. The place I'd discovered my adult self and 'found my tribe' still exists, and a new generation of music makers, experimental fashion designers and artists are keeping the spirit of my East End alive.
Nightly rates at Mondrian Shoreditch London start from £299 inclusive of VAT and breakfast. For more information please visit www.mondrianshoreditch.com