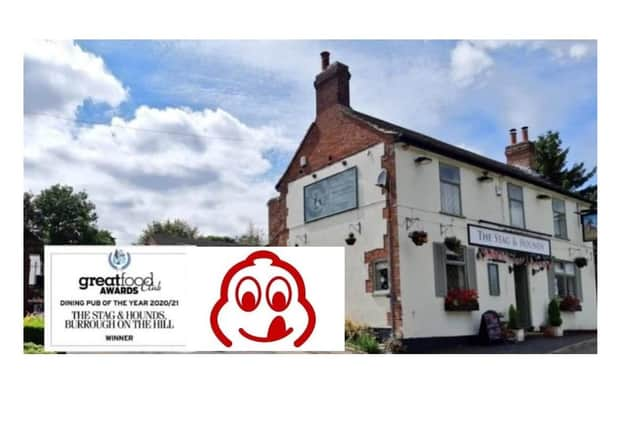 Melton gastropub owners delighted with new Michelin award – hot on the heels of Best Dining Room gong
Dominic Clarke and Antonia Nelhams, who run the Stag & Hounds in Burrough on the Hill, are thrilled with the gong – which follows hot on the heels of being named Dining Pub of the Year in the Great Food Club Awards.
The Main Street pub's inclusion in the Michelin guide is recognition of the couple's hard work to create a thriving and inclusive village gastropub that offers fresh, seasonal food at an affordable price.
"We change the menu every week and aim to keep it local and seasonal, and showcase the very best produce that the area has to offer," explains Dom. "Our ethos here is to provide great beers, top food and a warm welcome."
The menu is changed every week
When the pub was open pre-lockdown, diners could expect starters like ballotine of rabbit with carrot, black garlic and homemade curds, scorched mackerel with dill, new potatoes and house pickles, or leek and potato soup. Main courses brought a winter flavour with choices including juicy haunch of venison, served with sticky beetroot and kale, pan roast cod with mussels, chorizo and borlotti bean cassoulet, aged rump cap of beef with chunky chips, garlic mushroom and peppercorn sauce, or a tasty cauliflower risotto with hazelnut and winter truffle. Desserts might include Burrough Court honey parfait with berry and champagne sorbet or brown butter treacle tart, plus a selection of great British cheeses.
And the couple, who took over in September 2019, liked to provide great value with a popular lunch menu offering two courses for £20 or three for just £23.
Those who just fancy popping in for a pint weren't disappointed either: the Stag & Hounds is located next door to the micro Parish Brewery, which supplies their house ale. The pumps always offer a selection of guest ales from local breweries like Oakham Ales, Round Corner Brewing and Charnwood Brewery, as well as award-winning beers from further afield.
Just 16 new Bib Gourmand restaurants across the UK made it into Michelin's 2021 Great Britain and Ireland selection, which honours restaurants offering good food at competitive prices.
There's a popular lunch menu offering two courses for £20 or three for just £23.
One Michelin inspector said: "We've given the Bib Gourmand to this country pub to highlight good quality, good cooking which is what the Stag and hounds is all about. He's got good ingredients, prepares them well. The resultant dishes are full of flavour and delicious to eat."
"This latest award is great news and we are extremely chuffed about it," adds Antonia. "It is so nice to be recognised as we haven't been going for very long, especially for offering great food at great value which is what we are all about."
The pair took their time after first opening to source the very best local produce – they often used to transform surplus fruit from villagers into that week's delicious dessert and have even set up their own kitchen garden.
As well as serving up takeaway on Friday and Saturday evenings, as well as a Sunday lunch, they've been using the current national lockdown to tackle odd jobs around the property and can't wait to open their doors again when it's safe to do so.
They are looking forward to unveiling new dishes too
In the meantime, the new awards have given them plenty of food for thought and they can't wait to unveil their new dishes.