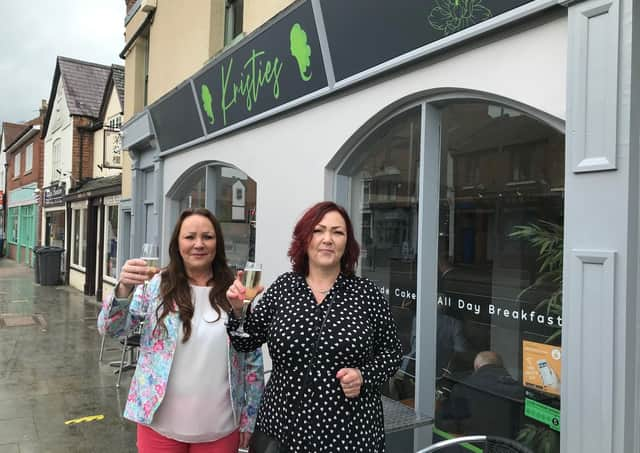 Jolli Waterland (left) outside her new Melton restaurant, Kristie's, with sister Dominique Carnall, mother of the late Kristie Bishop, whose memory inspired the eaterie EMN-210517-174629001
Kristie's has opened in the former Sit and Settle cafe premises in Sherrard Street selling a range of food and alcohol seven days a week until 9pm each day.
It was inspired by Kristie Bishop who tried desperately to turn her life around following a television appearance on The Jeremy Kyle Show before dying from a drugs overdose aged 35 after battling with her destructive habit for 15 years.
Her auntie, Jolli Waterland, started up the restaurant to keep her niece's memory alive and to send a message to others to show more understanding to those caught up in drug-taking.
Kristie Bishop with her brothers, Jay and Cameron EMN-210517-174701001
She told the Melton Times during today's launch party: "Kristie had a smile which would light up a room.
"After she went into rehab we had 18 months with her and we saw the real her.
"We will remember the real Kristie and the message we want to send out through this place is 'don't judge a person by what you think they are like'."
Some of the profits from the business will go into helping other addicts, such as the provision of special devices which can prolong someone's life after an overdose giving people precious time to get them medical attention.
The new decking at the rear of the new Kristie's restaurant in Melton EMN-210517-174619001
When Kristie died 15 months ago, after taking opiates and cocaine, only a few people could attend her funeral because it was at the start of the coronavirus lockdown.
Today's event gave the wider family and her many friends a chance to be together to remember her.
Jolli, who also owns Miss B's tearooms and Gracie's sandwich bar in Melton, added: "Only nine of us were able to be at Kristie's funeral.
"This is a family day where we can all be together for the first time since she died to celebrate her life."
For Kristie's mum, Dominique Carnall, the new restaurant represents something positive to come out of her daughter's life and a means of the family coping with their loss.
A former pupil of Melton's St Francis Primary School and the old King Edward VII School, Kristie was a vibrant young girl growing up whose personality was only masked by her drug addiction, which eventually led her to dupe people on the street out of cash to fund her heroin and crack habit.
Dominique said: "She was an angel as a little girl, she was effervescent and full of life, and she still was when she was off the drugs as an adult.
"I felt such shame when she became an addict, I couldn't talk to anyone about it.
"For my daughter to have this chaotic lifestyle was really tough to deal with.
"But we had that wonderful 18 months with her after rehab and when she died I said to myself 'I will never be ashamed of you ever again'."
A special guest at today's launch was Perry Clayman, whose rehab service took Kristie in and gave her the tools to fight her addiction before it took her life.
On the menu at Kristies will be dishes such as loaded nachos, baked Camembert, chicken wings. macaroni cheese, all day breakfasts and puddings.
There will be a 'Happy Hour' for customers from 4pm to 6pm on Tuesdays to Thursdays.
The backyard has been converted into a decking area for people to sit and drink outside and there is also space to dine upstairs.