Tributes for popular Melton businessman who has died aged 72
A Melton man, who was a prominent local businessman and the son of a famous boxer, has passed away aged 72.
Friday, 12th February 2021, 5:35 pm
Updated
Monday, 15th February 2021, 4:33 pm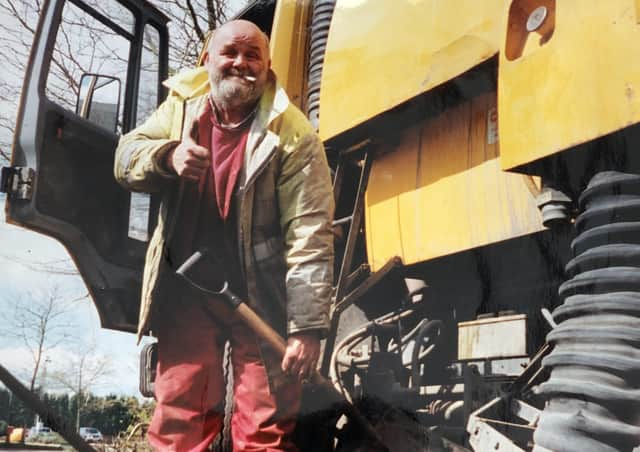 The late Pip Ewart on a job with his industrial cleaning company in Melton EMN-211202-172737001
Family members and his many friends are mourning Pip Ewart, after he died in Nottingham City Hospital while suffering from Covid pneumonia.
Pip's name is synonymous with the local removals firm which still bears his name, after he sold it, and his industrial cleaning company.
His late father, Jock, was also a well known man in the town after moving down from Scotland and becoming a prominent boxer in the 1930s
Pip and Pauline Ewart pictured on their wedding day in 1982 EMN-211202-172748001
The family has been inundated with messages and cards of sympathy since Pip's passing.
His son, Ralph, told the Melton Times: "My brother put a Facebook message up to let people know about dad and there must have been 500 responses from people saying they knew him and telling stories about him.
"He's not been very well in recent times and it is very sad that we've lost him.
"It's very tricky now because it would have been a very large funeral but we can only invite 30 people because of the restrictions."
The late Pip Ewart pictured in the cab of a truck while working in the family business EMN-211202-172759001
Pip was born and brought up at a house on Thorpe Road in Melton and he was one of five children.
His dad, Jock, had made his name in boxing as a semi-professional fighter before the Second World War winning many of his 28 bouts, including several at the old Melton Corn Exchange, which is now The Bell Centre shopping precinct.
At the end of the war, in 1945, Jock started a removals company called R.Ewart and Sons, which Pip worked in but which was wound up in the early 1990s.
Pip went on to open his own removals company, Pip Ewart and Sons, which he eventually sold off but which still bears his name and is based at Burrough Court. He also started up Pip's Cleaning Services, which was another successful venture with jobs ranging from drain clearing to road sweeping.
Ralph said: "Dad was a real grafter.
"We moved a lot of people through the removals business over the years.
"He was a very big character, especially during his drinking days in the town.
"He would always try to make people laugh and he usually succeeded."
Ralph married Pauline in 1982 at Melton Register Office and the event made headlines in the Melton Times that week because there were so many people attending that the road had to be closed off. The couple lived in Ferneley Crescent in the town.
Pauline passed away in 2009. As well as sons, Ralph and Andrew, who both worked in the family removals firm, the couple had six grandchildren.
Ralph added: "Dad struggled with ill health in later life but he doted on his grand kids. He just wanted to watch them grow up."
A funeral service, with restricted numbers, will be held on Monday March 1, at Loughborough Crematorium.
The cortege will leave Wilton Road car park at 1pm, for those who would like to pay their respects on the street.
Donations for Cancer Research UK can be sent to undertakers, Richard Barnes Funeral Directors, by calling 01664 565311.