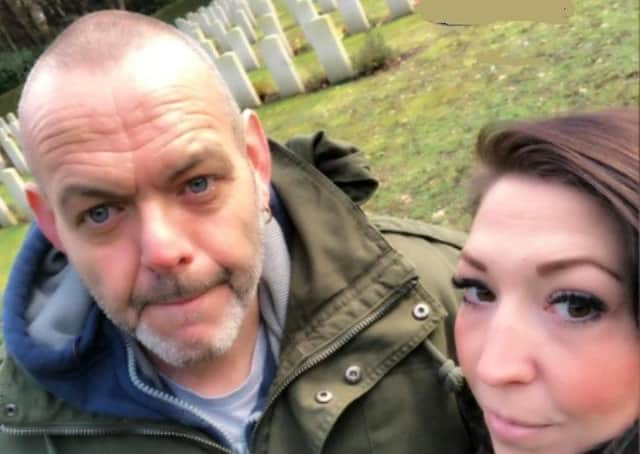 John and Sharon Esser, a Dutch couple who have adopted the grave of a British war hero EMN-210302-085447001
Christine Scott (74) said her older family members never got over the loss of Trooper John William Roe, when he was blown up in his tank just a few weeks before the end of the Second World War.
He is buried alongside other British service personnel in the Venray War Cemetery, south of Arnhem, where coincidentally hundreds of paratroopers fought after being billeted in the Melton area.
Mrs Scott has never seen the grave and knew little about her uncle until she was tracked down by a family history organisation after a Dutch couple posted in a veterans' Facebook group that they were trying to find relatives of the soldier whose grave they had adopted.
Trooper John William Roe pictured shortly before he fought in the Second World War EMN-210302-085457001
John and Sharon Esser maintain Trooper Roe's plot and regularly lay fresh flowers in a gesture to give thanks to the Allied soldiers who helped liberate their country from Nazi rule in 1945.
They are now exchanging emails and letters with Christine, who told the Melton Times: "It was completely out of the blue when I heard.
"Ironically, I only have one photo of my uncle and I had just looked at it and put it back in the drawer when the company called me.
"I was amazed to hear that this couple had adopted the grave of a complete stranger."
The grave of Trooper John William Roe, which has been adopted by a Dutch couple who live nearby EMN-210302-085508001
Trooper Roe served with the Royal Tank Regiment and he was killed in action on March 28, 1945, aged 27, a year before Christine was born.
He had worked in a factory before the war but was a talented golfer and he was hoping to turn professional after the conflict.
Christine added: "My mum and my auntie who lived with us always spoke about him because he was their younger brother and he was killed on his last mission.
"I don't think they ever got over it."
The Essers are just two of the hundreds of Dutch people who have adopted the graves of foreign soldiers killed in the war.
John (52), who lives with his wife in the town of Kerkrade, said: "People over here in the Netherlands are very thankful and have the deepest respect for the young heroes who gave their lives so that we can live in freedom at the moment.
"We will never forget that."
The couple have heard family stories about how tough life was under German rule with food severely rationed and discipline enforced on residents.
Sharon (37), who has also adopted a second grave of a British soldier with her husband, added: "We want to get as much information as possible about them so we can keep their story alive.
"We wanted to find the relatives, too, to let them know that their loved ones are looked after."
Trooper Roe's niece was tracked down by Finder Guru, an organisation which combines genealogy and private investigation work to locate families.
The company's head researcher, Nicola Girling, told the Melton Times: "Christine was overjoyed and very emotional when we got in touch as they had never been able to go to his grave or see his gravestone.
"We were able to put them in touch with the Dutch couple and they now exchange photos and stay in touch.
"It has been a joy for everyone concerned."