Care home residents to hold hands with loved ones again
Elderly residents enjoyed Mother's Day yesterday (Sunday) at a care home near Melton with the added excitement that they will soon be able to enjoy face-to-face visits with loved ones and hold hands with them again.
Monday, 15th March 2021, 5:35 pm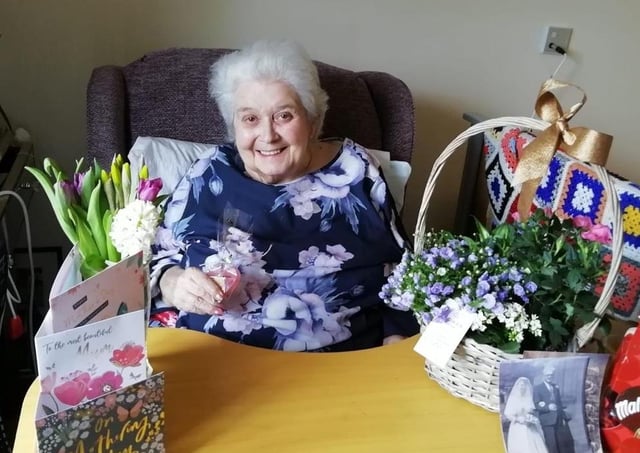 Mother's Day at Waltham Hall Nursing Home EMN-210315-171929001
We reported in December how family members had been safely visiting people living there via a special visitors' pod at Waltham Hall Nursing Home.
These meetings have been taking place with a low level perspex panel between both parties to keep residents safe from the risk of coronavirus.
But a relaxation in national lockdown rules now allows nursing home residents to have one indoor visitor and hold their hands, providing they test negative for Covid in a rapid result lateral flow test and observe safety measures. Preparations are in place to start these visits very soon.
Mother's Day at Waltham Hall Nursing Home EMN-210315-171939001
Faye Connolly, of Waltham Hall Nursing Home, told the Melton Times: "We have spoken to many of the residents' families and they are excited, but nervous to return to the home.
"They have praised the staff for their support and the excellent care given to the residents to make them feel happy and secure during their unfortunate absence.
"A lot of thought and consideration has gone into this next step.
"We are also glad of better weather coming in order that we can open up the garden again.
Mother's Day at Waltham Hall Nursing Home EMN-210315-172009001
"The home has been given a grant by the local council for a summer house to use for an extra space and this will arrive soon."
Prior to entering the new visiting room, visitors will be asked to wait 30 minutes for the result of their coronavirus lateral flow test.
They will then be provided with a PPE pack by staff before greeting their loved one or friend and the room will be cleaned and sanitised before the next resident's visit.
Faye said: "It will be very busy and we are really delighted to welcome back those familiar faces we have missed for so long."
Mother's Day at Waltham Hall Nursing Home EMN-210315-172019001
There have been some touching moment when residents have met up again with family members in the special pod but being able to hold their hands as well now will be even more intimate and poignant. The pod will remain in use after proper face-to-face visits start.
For those residents who've not been able to have visits, actvities co-ordinator, Sharon Whitfield, has worked tirelessly to get around the residents on a weekly basis to organise video calls with loved ones, so much so that the home's data limit had to be increased a few times.
Faye added that special care has been taken with family visiting for those residents who pass away.
She said: "End of life is a very sad time for all, and we have had visits in the home for this purpose following the necessary steps to reduce risk and limit infections spreading.
Mother's Day at Waltham Hall Nursing Home EMN-210315-172029001
"It is incredibly important to us as a home to recognise that these moments are very precious to family members and not something that can be put on hold. "We do celebrate life at Waltham Hall and we embrace the residents and their families as part of our extended family."
Mother's Day gifts were provided for residents on Sunday by local business, Bumble Bee the Natural Way - they were then quarantined along with all the presents bought by families for their mums, grandmas and great-grandmothers.
Faye added: "Once again we would like to thank everyone who has helped us along the way, the support has been incredible and we cannot believe we have got this far.
"It is a strong testiment to the staff, the enduring support of the families who have trusted us to care for their loved ones during this long year, and of course with recognition to our matron, who has steered the ship through the storm."
Mother's Day at Waltham Hall Nursing Home EMN-210315-171949001
Mother's Day at Waltham Hall Nursing Home EMN-210315-171959001
Mother's Day at Waltham Hall Nursing Home EMN-210315-171919001