800 families helped by Melton debt charity
The woman who runs a charity which has already helped nearly 800 families in the Melton area with free debt advice since it was formed three years ago expects a surge of new people needing support in the wake of the ongoing coronavirus pandemic.
Wednesday, 17th February 2021, 5:02 pm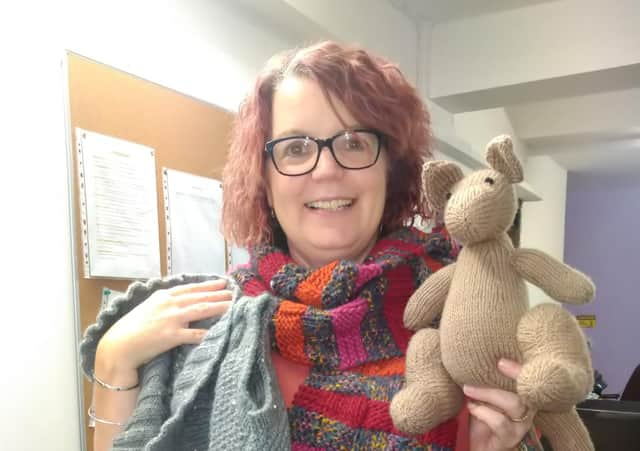 Amanda Heath, who runs the Melton and District Money Advice Centre (MADMAC) in Leicester Street, Melton EMN-210217-131031001
Amanda Heath established Melton and District Money Advice Centre (MADMAC) to provide a confidential and impartial advice service for the Melton District.
The organisation expanded its team last year and established a permanent office in Leicester Street at The Fox, a former town centre pub, which recently hosted the town's Storehouse foodbank before it moved to the Hope Centre in Nottingham Street.
Many of the people Amanda and her colleagues are seeing are struggling after losing their jobs since lockdown restrictions began last March, while others have had their working hours cut by their employers.
The Melton and District Money Advice Centre (MADMAC) in Leicester Street, Melton EMN-210217-131043001
With the government considering withdrawing the £20 per month supplement on Universal Credit and the hold on property repossession claims about to be lifted, she says debt advisory services like hers are expecting 'a bow wave of new cases' to hit their desks soon.
Amanda told the Melton Times: "Covid has played havoc with people's finances and we are seeing a steady rise in debt problems across all sectors and income levels of our society.
"Our growth last year was just in time, but we expect demand for our services to continue to grow significantly, not only across Melton but also in neighbouring districts too.
"We'd like to be able to support anyone that needs it but, like most other charities, we need both long-term and short-term financial help."
MADMAC relies on funding from local businesses such as Melton Building Society, Severn Trent Water and Melton Carpets, as well as support from Melton Borough Council and national charities.
Fundraising and volunteers offering their services also play an important role, with the organisation seeking to not only help families with their immediate financial problems, but also provide free money management courses to educate and support people in their budgeting, to prioritise their spending and to conserve their cash.
The charity says it has helped families, couples and individuals resolve more than £5 million of debt since starting up in 2017.
Amanda said: "We are blown away with what we have achieved in 2020 and we couldn't have done it without the dedicated team of volunteers who have given up weeks of their free time.
"We are, after all, local people helping local people and we make sure we go over and above for all our clients."
We reported earlier this year that the number of people claiming benefits in the Melton borough has more than doubled in the last year.
And a new report, published by the Institute for Money Advisors, predicts a 68 per cent increase in people seeking debt advice over the next 18 months.
MADMAC, which was nominated for the Queen's Award for voluntary services and reached the finals for the Financial Inclusion award with the Centre for Social Justice, is already working at full capacity, but Amanda is very grateful for the support they've had from the community.
She added: "We've been able to offer free takeaways thanks to the generosity of a local man, we've been helped with travel tickets, we've been able to provide cookers and carpets, helped with lifts to hospital, and the list goes on.
"I cannot thank those people and businesses enough for their help.
"We'd love to hear from people if they need help with debts or budgeting, and from those who would like to volunteer or help with funding - we are always looking for donations to continue our work."
Go online at www.madmacmoney.co.uk to find out more about their services.