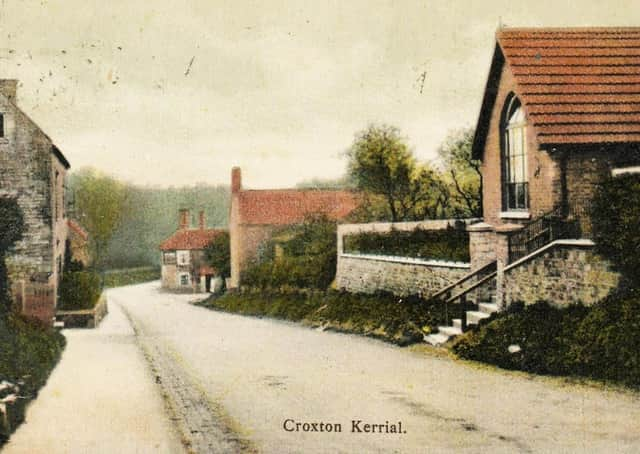 Main Street in Croxton Kerrial pictured around 1910 EMN-211005-121825001
The outline has hardly changed in more than a century.
For sure the traffic has got busier and speeding along the main A607 remains a problem in Croxton Kerrial.
Avoiding being blown away by the passing lorries, I keep an eye out behind me.
Main Street in Croxton Kerrial PHOTO Estelle Slegers Helsen EMN-211005-121814001
I can understand if drivers ask why my camera is set on the fringe of the pavement, nearly on the road, looking for the old photographer's spot.
On the left is Hillside Farmhouse, one of only a few Grade II listed buildings in the village.
Down to the right is the village pub, The Geese and Fountain.
"It will always be The Peacock Inn to me," said Jenny Elizabeth, full of nostalgia.
The original name is linked to the Dukes of Rutland having a peacock as their Manners family crest.
"The duke's Belvoir Estate sold off the pub in 1922, so it hadn't been in his hands for over 90 years," said Nick Holden.
"The pub had been closed for four years and it was run down inside and out."
Nick reopened in 2015 with a new name after consulting the villagers.
"The geese are identified with those which the Botterills farmed here for many years.
The fountain is a picturesque referral to the water spout on the A607 towards Waltham on the Wolds, which is part of an historic water supply scheme, using spring water from a nearby hill."
Kim Ranns said: "The house you can see in front of the pub, Moors Farmhouse, was Belvoir Estate owned, as were most of the village properties and land up to the beginning of the 20th century."
Lesley Beauchamp said: "It was the farmhouse of the Stannages, an old farming family of the village, who were there for many years."
"I have lived in the farmhouse for nearly 40 years," said Jean Howle.
In front, on the right, sits the village hall, a late Victorian building.
"It was purpose-built in about 1900," said Kim. "My late dad used to be caretaker of the village hall for many years," said Jenny.
"I went to many a do there and even had my wedding reception in the village hall."
by Estelle Slegers Helsen