Melton's Battle of Britain ace remembered 80 years on
As the nation prepares to mark the 80th anniversary of Battle of Britain Day on Tuesday we thought it was important to highlight the remarkable role played by a Melton man in that fight for supremacy of the skies.
Friday, 11th September 2020, 10:47 am
Updated
Friday, 11th September 2020, 5:52 pm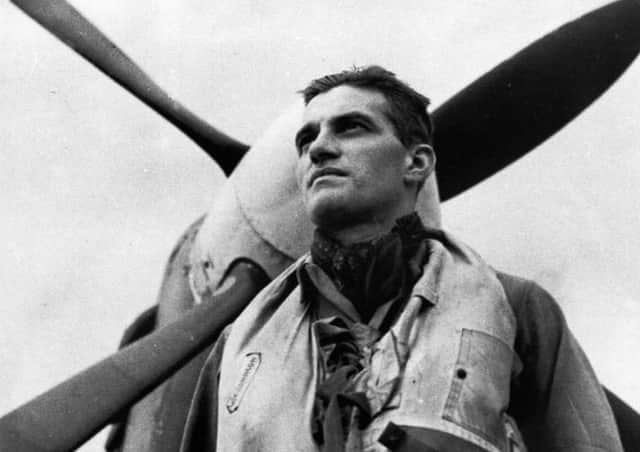 Second World War Spitfire pilot Johnnie Johnson EMN-200309-185321001
Many residents and visitors to the town will pass by the corncross monument, at the pedestrian junction of Nottingham Street, High Street and Market Place, and be blissfully unaware of a special plaque attached to it.
The memorial plate pays tribute to Air Vice-Marshal James Edgar 'Johnnie' Johnson, who ended the Second World War having shot down 38 enemy aircraft, the biggest tally of any Allied pilot.
Incredibly, he was never shot out of the sky despite flying more than 1,000 sorties, although he did admit to being hit on one occasion when outnumbered in combat with six German Messerschmitts.
Second World War Spitfire pilot Johnnie Johnson EMN-200309-185311001
Johnnie's achievements rank alongside any of the other legendary airmen in the Battle of Britain, including Douglas Bader who he regularly flew alongside in 616 squadron and who he was with when Bader was shot down over St Omer.
Born at Barrow-upon-Soar, in Leicestershire, in March 1915, Johnnie's family moved to Melton when he was seven and his policeman father, Alfred, eventually became police inspector for Melton Mowbray.
One of the highlights of Alfred's career was the evening in the 1930s when Oswald Mosley, the leader of the British Union of Fascists, held a meeting in the town.
The licence for the meeting expired at 10pm, at which time Insp Johnson, acting without back-up, ejected the fascists from the building.
The corncross in Melton bearing a plaque paying tribute to celebrated Battle of Britain ace, Johnnie Johnson EMN-200909-100322001
As a teenager, Johnnie learned how to shoot rabbits and pigeons and then sold them on Melton's street market.
He developed a passion for speed, and joined Melton Car Club with some of his friends so they could race around quieter parts of town in various vehicles.
Johnnie went to Nottingham University and qualified as a civil engineer at the age of 22, when he became a surveyor at Melton Mowbray Urban District Council.
He took flying lessons at his own expense and attempted to join the Auxiliary Air Force (AAF) in 1937. It is said that on hearing he was from Melton, the interviewing officer asked which hunt he rode with and Johnnie replied that he did not even know how to ride a horse. It is unknown whether this was the reason he was rejected.
Second World War Spitfire pilot Johnnie Johnson EMN-200309-185241001
Johnnie decided to join the Leicestershire Yeomanry instead before he was accepted by the RAF Volunteer Reserve, the main entry point for aircrew serving with the RAF.
After war was declared and Hitler's Nazis began to move through Europe it became inevitable they would attempt to invade Britain.
Johnnie and his colleagues became engaged in a series of aerial engagements with the German Luftwaffe over the summer and autumn of 1940 which became known as the Battle of Britain.
He flew into battle despite having only 10 hours flying experience in Spitfires - a fifth of the recommended training period.
Second World War Spitfire pilot Johnnie Johnson with his beloved Labrador, Sally EMN-200309-185301001
September 15, when the enemy suffered huge losses of aircraft and crew in combat with Spitfires and Hurricanes, is seen as a crucial day in the battle when the immediate threat of invasion was kiled off.
Johnnie's flying was initially hampered by an old rugby injury but an operation dealt with it and he shot down his first Messerschmitt over France.
He went on to command a Canadian wing and battled bravely in the skies over western Europe.
One of his favourite stories came from 1944, when he famously hung beer barrels from the wings of his Spitfire and flew them back to base for ground crew and other pilots to enjoy.
His brother, Ross, who lived at Burton Lazars, spoke to the Melton Times back in 1990, when he said: "He put most of his success down to luck but of course he needed great skill to survive.
"He was 25 when he first flew in battle, which was middle aged for fighter pilots then, but he was only a raw sprog in terms of experience."
Second World War Spitfire pilot Johnnie Johnson EMN-200309-185331001
Ross, who revealed Johnnie had great respect for the German fighter pilots he came up against, added: "We were all worried about him being up there in battle but very proud at the same time."
Johnnie Johnson CB, CBE, DSO and two Bars, DFC and Bar, DL, passed away aged 85 in January 2001.
His 19 medals with accompanying warrants, five original flying log books and five photograph albums were sold at auction, on his dying wishes, for £241,500.
Auctioneer David Erskine-Hill said after the sale: "This really is a unique collection reflecting sustained gallantry over a lengthy period of time."
Battle of Britain Day is normally marked in Melton with a colourful parade through the town centre, followed by a service and wreath-laying ceremony.
Commemorative events have been scaled back this year due to Covid-19 restrictions and there will instead be just a private ceremony in Egerton Lodge Memorial Gardens on Sunday September 20 followed by a dedication at the RAFA HQ on Asfordby Road.
The usual street collections for the Wings Appeal, which supports former and serving RAF service personnel and their families, have had to be cancelled this year but other fundraising activities have taken place.
Paul Davies, chair of the Melton RAFA branch, said: "Hopefully the money raised from all sources will reach towards, or maybe pass, £3,500, which considering the situation we find ourselves in this year, would be a good achievement."
Donations can be made online at www.justgiving.com/fundraising/rafameltonmowbraywingsappeal or at the town RAFA HQ.