Arnhem war hero celebrates 100th birthday
A Second World War paratrooper who was one of the few survivors in his battalion who fought in the iconic Battle of Arnhem in 1944 celebrated his 100th birthday today (Wednesday).
Wednesday, 17th June 2020, 5:45 pm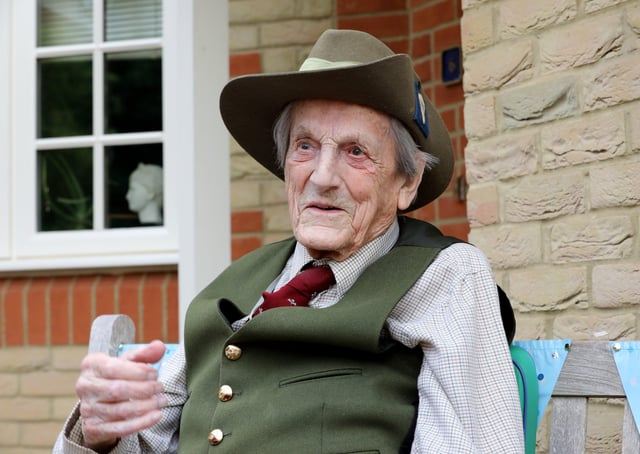 Colonel John Waddy, celebrated his 100th birthday this week Photo Richard Watt 07836 515306 EMN-200617-135133001
John Waddy, who was billeted at Newport Lodge Stables in Melton with 156 Parachute during the war, has regularly returned to the town for the annual reunion events.
He now lives in Somerset and at a party to mark his special milestone Lt-Gen Sir John Lorimer KCB, DSO, MBE, the Colonel Commandant of the Parachute Regiment, congratulated him as one of the most respected elders in the regiment before presenting a letter.
A bugler played 'Reveille' and 'Danny Boy', John's favourite song, and Lt Col Rob Arts, the Dutch Military Attaché, then presented the Dutch Liberation Medal to John and explained that he was the most well-known and much loved veteran of the airborne division in Holland.
Major John Waddy pictured during the Second World War in 1944 EMN-200617-142519001
John was one of 603 men who parachuted into Ginkel Heath in September 1944 - only 26 returned to Melton later that month while a further 10 escaped across the Rhine through German lines.
John was seriously wounded whilst leading an attack against German SS troops. An operation was carried out on him on a billiard table at the Tafelberg Hotel but here he was wounded twice more, as the hospital was on the front line in the village of Oosterbeek. Lucky to survive, he spent the rest of the war in a PoW camp.
John, who met his future wife, Ann, in Melton, when she was based at the Remount Depot, continued his military career after the war serving as 2ic of 2 Para before taking over as Colonel Commandant of the SAS Regiment.
His final military role was serving alongside the Americans as an observer in Vietnam where he saw the value of using helicopters for the swift
movement of troops and, upon his return, recommending their use in special forces.
On his retirement from the Army, he joined Westland Helicopters, advising on their development and safety for troop transport.
John's breadth of knowledge was sought by the producers of the blockbuster film A Bridge Too Far, which was based around the battle at Arnhem, and he was chosen to be their military advisor.