Six-figure compensation for joiner who worked with asbestos
A pensioner has been awarded a six-figure compensation payment after his former employer failed to protect him sufficiently from the dangers of working with asbestos.
Monday, 27th July 2020, 6:17 pm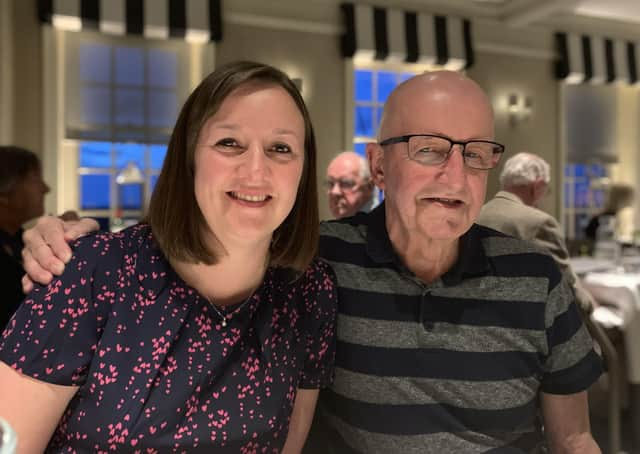 Errol Lee, a former carpenter and joiner who worked with asbestos in the Melton area and who has just been awarded compensation, pictured with his daughter EMN-200727-171526001
Errol Lee, who is aged in his 70s, worked for over 25 years in the Melton area for the construction company A J Stimson & Son and latterly A J Stimson & Son (Somerby) Ltd as a joiner and a carpenter.
He launched a legal case after being diagnosed last year with mesothelioma, a form of cancer which develops in the lining covering the outer surface of certain organs, such as the lungs, and which is usually linked to exposure to asbestos.
A court found that throughout the entire period of Mr Lee's service with the construction company, his employer failed to take adequate measures to avoid or minimise the release of asbestos fibres into the atmosphere.
They gave no warnings about the dangers of working with asbestos and didn't provide any suitable protective equipment.
After compensation was awarded to Mr Lee, his solicitor - APIL asbestos disease and occupational disease specialist, Phoebe Osborne, of Ashtons Legal, said: "Mr Lee was diagnosed in 2019 and fortunately he initially responded well to chemotherapy but during the lockdown his disease has progressed and sadly there is no cure.
"As part of his settlement it has been agreed that he will be able to access future private treatment and he is hoping to embark on private immunotherapy.
"A financial settlement can never truly compensate for the loss of good health but it will help to ensure that Mr Lee can make the lifestyle adjustments that he needs while battling his cancer, and that he has peace of mind about his financial future."
Mr Lee wants to highlight his case in the hope that any former work colleagues who might also be showing symptoms of mesothelioma can also get a speedy diagnosis and benefit from some financial compensation to give them access to the best possible medical treatment.
The firm he worked for specialised in projects such as new builds and renovations in both the residential and commercial sectors.
Among the tasks Mr Lee carried out were removing and replacing asbestolux soffits, installing asbestolux ceilings in garages, fitting asbestos bath panels and replacing corrugated asbestos cement sheets in farm buildings.
He also spent time working in the firm's joinery shop where he cut asbestolux sheets to size and swept up the dust created by the fibres.
Mr Lee has been helped by, and has become a supporter of, the national charity Mesothelioma UK, and following settlement he has donated valuable funds to the charity.
Lorraine Creech, the charity's head of nursing, said: "I would like to thank Mr Lee for raising awareness about his diagnosis of mesothelioma after being exposed to asbestos during his career as a joiner.
"The UK has the highest incidence of mesothelioma in the world with approximately 2,700 people being diagnosed each year.
"The awareness that he is providing will hopefully assist with earlier diagnosis and treatment for others like himself, who find themselves in such a difficult situation through no fault of their own.
"Mesothelioma UK works tirelessly and passionately to improve the treatment, care and support for all people in the UK with mesothelioma and their carers.
"We are dedicated to raising the profile of mesothelioma to help prevent future cases and make mesothelioma matter."
Mr Lee, who now lives in Cambridgeshire having relocated to be closer to his daughter and her family while battling his illness, is being treated at Addenbrooke's Hospital and is supported by Mesothelioma UK nurse, Kate Slaven, who is based at the Royal Papworth Hospital.
Kate said: "I want to pass on a massive thank you to Errol and his family for his very generous donation to Mesothelioma UK.
"I am lucky enough to be one of the nurses caring for Errol and as a Mesothelioma UK Specialist Nurse, I am aware of what a difference this will make in caring for all of our patients."