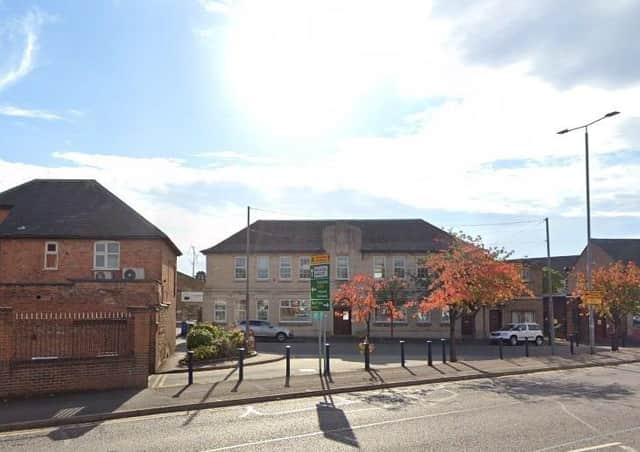 Harwood House on Park Road in Melton EMN-210209-162307001
If the scheme, at Harwood House in Park Road, is approved, it would see the Melton Clinic private dental surgery relocated there from Asfordby Road.
The move would allow the practice to significantly increase the number of patients it treats, from 1,600 to around 6,500.
A planning application submitted to Melton Borough Council states that the pitch roof of the main Art Deco-style building, which was built in 1030, would be removed and lifted to provide an additional floor to the new medical centre.
Harwood House (in red) on Park Road, Melton, which could be converted into a medical centre if a planning application is approved EMN-210209-161435001
A flat roof two-storey annex that attached to the south-east corner of the main building would be demolished to make way for the construction of a new three-storey structure to house an operating theatre, surgery and conference room.
This section of the complex does not have much architectural significance, a planning report points out, so its demolition is considered justified.
Eight new consultation rooms would be created, three of which would be used for the relocation of the Melton Clinic and others would be made available for consultation rooms for either the dental arm of the business or other clinic procedures.
The applicants intend to install a lift and they say 21 parking spaces will be provided in the exisiting rear car park.
Harwood House on Park Road in Melton EMN-210209-162317001
They say in their application: "It is imperative for us moving forward, that we get ourselves set up in a premises that is more conducive to our aims and aspirations.
"This would not only increase profitability for the clinic but would allow us to a greater level of service delivery then we can currently."
Planning permission is sought to change the use of the building from a dance centre to a medical centre, with alterations and extensions.
The Melton Clinic, which was set up two years ago, operates an exclusive private multi-speciality clinic providing dentistry, facial aesthetics, private GP and wellbeing services.