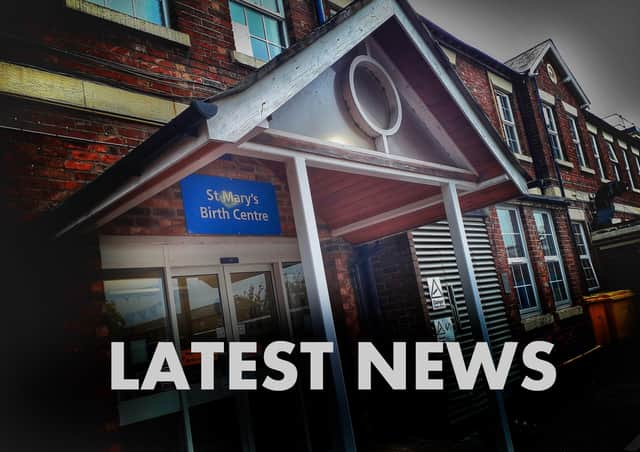 Latest news about Melton maternity services EMN-201113-124241001
A public consultation is underway on proposals to revamp hospital services across Leicester, Leicestershire and Rutland, including the centralising of main maternity departments in the city.
The plans would see St Mary's Birth Centre close in favour of a new midwife-led baby unit at Leicester General Hospital and a new maternity hospital at Leicester Royal Infirmary.
The proposals at Leicester General would only be a 12-month trial, according to the report prepared by local clincal commissioning groups.
St Mary's Birth Centre in Melton EMN-201011-125613001
And a new study made by members of the health and policy unit at De Montfort University suggest it would be a mistake to close the Melton baby unit and that maternity services may struggle to cope with births as a result.
Sally Ruane, a member of the university research group, said: "There are a number of advantages in keeping St Mary's open.
"It has an established reputation for providing good quality care, it is especially valued for its post-natal care and is accessible to women on the eastern side of our geographical patch.
"Policy guidance emphasises the importance of choice but if the current proposals go through, we believe expectant mothers will have much less choice than they currently do.
"Local NHS leaders state that St Mary's is not viable because too few babies are born there.
"However, available evidence shows that free-standing midwifery units such as St Mary's are highly cost-effective, even when run at a third of capacity, because they use far fewer resources than obstetric units.
"We have heard several mothers complain that they were not informed about the option of St Mary's and the research suggests this experience is not
"St Mary's must be championed as a birth centre providing high quality care for low risk mothers."
Dozens of mums who have used the town birth centre are campaigning to keep it open and thousands of residents have also signed two petitions in support of the baby unit.
People have only until December 21 to contribute to the consultation and a series of online engagement events are being held to aid the process.
The evidence produced in the university study will be part of the consultation and St Mary's supporters will be buoyed by the content in it.
Of a possible midwife-led unit on the site of the Leicester General Hospital to replace the Melton baby unit, Dr Ruane said: "The problem with the proposal is that it is only a trial and not a guaranteed part of future maternity care for expectant mothers.
"In fact, some of the more detailed documentation states that it is only a 12-month trial.
"Given that a target of 500 births per year has been set, it is very difficult to see how this trial can succeed.
"If the trial fails, as seems likely, women will have no access to a free-standing midwifery unit in Leicester, Leicestershire and Rutland and the good quality experience and good outcomes such a unit can provide will be lost."
The policy analysts recommend that St Mary's Birth Centre should be kept open as part of a spectrum of provision for local expectant mothers.
The authors state that research shows that birth centres such as St Mary's provide high quality care for mothers at low risk of complications, with outcomes for their babies which are as good as they are in obstetric units.
Dr Ruane added: "The research evidence shows that, for low risk women, there are no significant differences where adverse outcomes for babies are concerned between obstetric units and midwife-led units, such as the one at St Mary's, which are free-standing and not close to medical care.
"Moreover, midwife-led units like this often provide a better experience for low risk mothers as they are more likely to enable the women to give birth 'normally' without interventions such as induction, forceps, epidurals or caesareans."
Mums who have used services at St Mary's Birth Centre this week released an emotional video pleading for it to be retained - go to
www.facebook.com/128332727188196/posts/3657129554308478/?vh=e&d=n to watch it or search for the Save St Marys Birth Centre Facebook page to view it.
Go to www.change.org/p/university-hospitals-of-leicester-nhs-trust-save-st-mary-s-birthing-centre and to www.change.org/p/andrew-furlong-save-our-birthing-unit-from-closure to see two online petitions which are circulating.
The overall proposals to transform local hospital services, at a cost of £450million also include the first single-site dedicated children's hospital in the East Midlands at Leicester Royal Infirmary and the expanding of Glenfield Hospital by a third to create a planned care treatment centre for operations and emergency procedures.
Residents can visit www.betterhospitalsleicester.nhs.uk to complete a questionnaire online or they can call 0116 295 0750 or email [email protected] to get a paper copy posted to them or to get further help in filling it in.