Melton's Netflix star who is making waves across the world
Many of us have spent endless hours in lockdown watching programmes on Netflix and the star of one of the most-watched shows hails from Melton.
Wednesday, 1st July 2020, 6:17 pm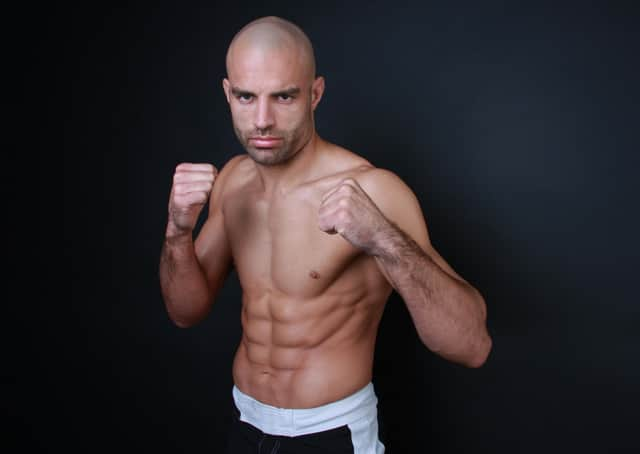 James Wilks, a mixed martial arts champion turned Netflix documentary maker and vegan diet campaigner EMN-200630-133600001
James Wilks fronts ground-breaking documentary, The Game Changers, which highlights the benefits for athletes of eating vegan food and controversially seeks to dispel the popular notion that meat is important for building strength and power.
The movie has some influential backers, with executive producers including Oscar-winner director James Cameron, Formula One world champion Lewis Hamilton and film star-turned politician, Arnold Schwarzenegger.
But James (42) has not forgotten his roots and the programme includes scenes of him driving down Burton Street, visiting Melton Livestock Market and spending time with his parents at their Burton Lazars home.
A scene from The Game Changers showing vegan strongman Patrik Baboumian performing one of his remarkable strength feats EMN-200630-133639001
We spoke exclusively to James, via a video link to his California home, about the success of his documentary, which has now been see by tens of millions of people across the world and influenced many of them to completely change their eating habits.
He told the Melton Times: "I thought the film would do well but it has been incredibly successful.
"It is now the most viewed documentary of all time which is incredible.
"It will shortly be released in China and the viewing figures there could be huge."
James Wilks wanders through his home town, Melton, on market day during The Game Changers movie EMN-200630-165412001
In making the programme, James travelled to meet a host of top athletes who eat nothing but plant-based diets to show that meat does not have to be consumed to guarantee high performance in endurance, speed and power events.
Among them were super strongman Patrik Baboumian, who demonstrates amazing feats of strength in the movie, and ultrarunner Scott Jurek, who is shown taking on the challenge of running the gruelling 2,000-mile Appalachian Trail in the United States in just 46 days.
"We have been contacted by top athletes, like Olympic gold medallists, NBA basketball stars and soccer players, soldiers and people in law enforcement, who all changed their diet to plant-based as a result of the film," said James.
"It is certainly a lot more accepted to eat a vegan diet since it came out and, particularly, young men are seeing that you don't have to eat meat to be manly and cool.
James Wilks meets up with dad Gary in Melton in a scene from The Game Changers movie EMN-200630-165426001
"We have also had a lot of push backs, particularly from people funded by the meat industry and who try to debunk the theories given in the movie but the documentary has benefited the lives of a lot of people."
James has come a long way since his formative years in Melton, where he attended Brownlow Primary School but admits he got into trouble quite a bit.
His parents moved him to a boarding school near Stamford and then on to Uppingham School.
He took up martial arts in his teenage years, with sessions at Melton's Waterfield Leisure Centre, and Bruce Lee, the iconic fighter and movie star, became a personal hero.
Australian champion sprinter Morgan Mitchell in action during a scene from The Game Changers in which she describes the benefits of her vegan diet EMN-200630-133614001
After getting a university degree, James begain teaching in various fighting styles and moved to America to further his training.
He turned professional as a mixed martial arts (MMA) fighter in 2003 and enjoyed an impressive record culminating in winning the coveted Ultimate Fighting Championship welterweight title six years later.
Injuries cut short James' fighting career but it was while recovering from serious knee issues that the idea for The Game Changers movie was born.
Unable to train, he began researching nutrition and had a eureka moment, when he read that the average plant-eater gets 70 per cent more protein than they need.
He discovered that athletes on a vegan diet also have reduced inflammation, decreased recovery times, improved blood flow, and lower body fat.
"Before this I was eating red meat, chicken, lots of dairy, fish and eggs and I realised I didn't need them," said James.
"I didn't change straight away, but over a couple of months, but my strength and endurance quickly went up as you see in the movie when I do the battle ropes exercise for over an hour."
He is now recognised wherever he goes in the United States, particularly where he now lives, in Orange County.
"Before lockdown I was forever getting people wanting to talk about the movie whenever I was at the gym, the supermarket or out with my family at a restaurant," said James.
Scenes from the movie also show the work James does with the US military as a self-defence instructor with elite squads such as special forces soldiers and navy seals and he revealed he has also been asked to work with RAF service personnel in this country.
He is married to Alicia, the couple have two children and she has another three from a previous relationship.
All enjoy a plant-based diet and James has also convinced his father, Gary, a Melton businessman, to eat mainly vegan food after suffering heart problems.
He tries to return home at least once a year to see his parents and brother, Richard, and is clearly proud of his Leicestershire roots.
Melton Mowbray may be best known for pork pies but James is building a reputation as one of the world's most prominent advocates for plant-based diets.
He added: "It doesn't have to be an all or nothing thing.
"Some people do change overnight and never eat meat again but most do better by doing little swaps where they find a plant-based substitute for a meat or dairy product.
"For example, if you are having a cottage pie, use lentils instead of beef and rather than having cows' milk on your cereal switch to having almond or soya milk.
"People will say stuff like 'I enjoy having sushi with the guys once a week, do I have to give that up' and I tell them to keep doing it if they enjoy it and just have plant-based food the rest of the week."
The Game Changers is available now to watch on a number of digital platforms such as Netflix, iTunes, Google Play, vimeo and Amazon Prime.