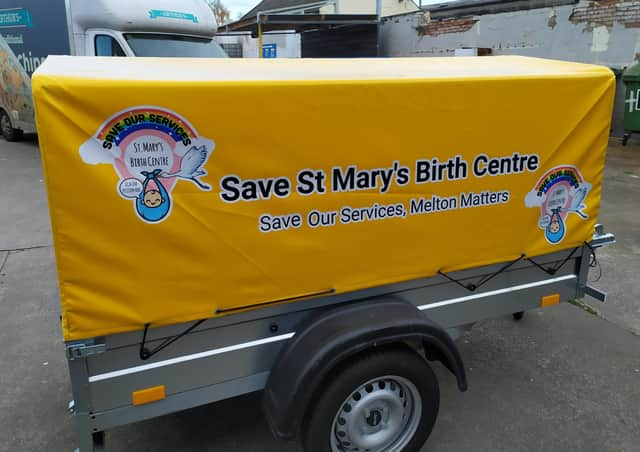 The bright trailer commissioned by Melton Matters to help the campaign to save St Mary's Birth Centre from closure EMN-201011-153718001
It was commissioned by members of community action group Melton Matters, which has joined forces with the 'Save St Mary's Birth Centre' group and the newly founded 'Speak Up For St Mary's Birth Centre' group.
A public consulation is currently being held to assess views on plans to transform hospital services across Leicester, Leicestershire and Rutland, including centralising main maternity departments in the city.
This would include closing Melton's baby unit in favour of providing a new midwifery-led birth service at the Leicester General Hospital.
Glynn Cartwright, of Melton Matters, said: "The trailer had its first outings on Saturday and Sunday and attracted positive comments plus good luck wishes."
The group aims to circulate paper petitions to save the baby unit and is seeking volunteers. Email [email protected] to get involved.
To watch a new short film created by mums who wanted to save the Melton baby unit from closure, go to www.facebook.com/128332727188196/posts/3657129554308478/?vh=e&d=n or search for the Save St Mary's Birth Centre Facebook page to view it.
Residents can visit www.betterhospitalsleicester.nhs.uk to complete a questionnaire on the hospital plans or can call 0116 295 0750.
Online consultation events are being held to give more information on the overall proposals. Details on the website.