Inspectors say local air ambulance service is 'outstanding'
Inspectors have given the Derbyshire, Leicestershire and Rutland Air Ambulance (DLRAA) service the highest possible rating.
An unannounced inspection was carried out by the Care Quality Commission (CQC) – the independent regulator of health and social care in England – and they said it was 'outstanding'.
Inspectors talked to clinical staff, patients and members of the public as well as looking at performance data by the service – crews responded to 828 incidents between January and March this year, alone, with
116 people having suffered medical cardiac arrest and 95 being involved in road traffic collisions.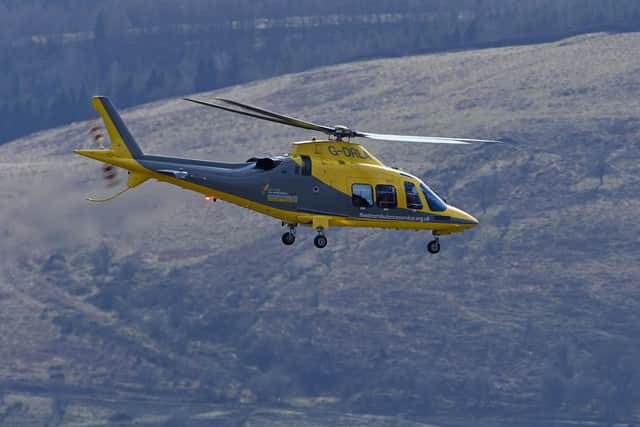 Their report praised the DLRAA service in its overall approach in ensuring it 'met the needs of the local population 24 hours a day, seven days a week' to 'deliver high quality care', referencing that 'outcomes for patients were positive, consistent, and met expectations'.
Staff were seen to work well together and were encouraged to influence both clinical and operational practice for the benefit of its patients, actively participating in research and work on public and preventative health initiatives, like its knife crime campaign.
The service, which is entirely funded by donations and revenue from its charity shops, including The Hanger at Melton Mowbray, is operated by The Air Ambulance Service (TAAS).
Commenting on the report, TAAS director of operations Richard Clayton, said: "I am absolutely delighted by the CQC's overall rating of our DLRAA service, especially as this is our first rating.
"The published report is a great reflection on a lot of hard work by the entire operations team, and wider charity, who work tirelessly to provide exceptional patient care in often very challenging situations.
"Our ethos is to continuously drive and enhance the delivery of high-quality person-centred pre-hospital emergency medicine and critical care, and this report not only validates that, but supports our belief that we are doing the very best for our patients - as they are the driving force behind everything we do.
"It's fantastic that the inspectors were able to see and articulate the passion and commitment that exists within everyone across the wider charity, we can only achieve reports like this because of everyone's hard work, everyone involved should be immensely proud."
The inspectors found that people were seen to be truly respected and valued as individuals and were empowered as partners in their care both at the time of the incident and in its aftermath, where the charity was seen to provide exceptional emotional support to patients, families, and carers.
Feedback from those using the service was recognised as continually positive with a strong visible person-centred culture where staff treated them with kindness, respect, and dignity.
Commenting on the rating, chief executive officer, Peta Wilkinson, said: "I'm delighted that the charity has achieved the highest overall rating from the CQC; it clearly validates our service's purpose and recognises the high-quality emergency and urgent care we deliver every single day.
"Having recently joined the charity, I have already seen first-hand the dedication, professionalism, and passion of the frontline teams who work in the delivery of our lifesaving service, as well as colleagues across the charity, and generous people who support us by volunteering, leaving a legacy, fundraising, visiting our stores, or sharing their story – this success is a credit to everyone."