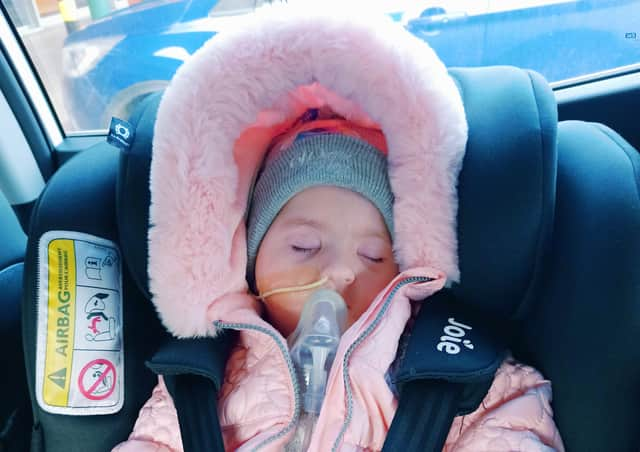 Melton girl Anika Wojciechowska, who needs treatment for a genetic disorder EMN-210120-093740001
We reported a year ago that the parents of Anika Wojciechowska had started raising more than £30,000 for her to have growth hormone therapy and intensive physiotherapy twice a week.
Anika was diagnosed with Wolf-Hirschhorn syndrome, a genetic disorder which affects many parts of the body, shortly after being born weighing just 1.48kg.
She is unable to walk or talk, she has suffered regular multiple seizures and is fed via a tube through her nose.
The family sought medical advice in Poland and Italy after they said they were told by doctors in the UK there was no treatment which could help her.
Growth hormone treatment was suggested and it is due to be given to Anika at Great Ormond Street Hospital although her parents must pay for it.
Anika's father, Mariusz, who is continuing to raise money online and save what he can to meet the cost, told the Melton Times: "The beginning of the therapy was scheduled for the first half of last year but all appointments we had with the hospital have been rescheduled due to the Covid pandemic and lockdowns.
"After almost a year of waiting for a proper appointment that would give us a green light to start the therapy we finally had a date for Tuesday this week.
"Unfortunately I had a message from Great Ormond Street Hospital about a week ago that this date has been changed again so we have to wait another month until February 21, unless it is changed again."
Anika's seizures are controllable now but she still requires constant monitoring by her parents or carers, when they are helping to look after her.
Mariusz is appealing for financial help from the public to help pay for her scheduled treatment and the regular physio she needs.
He added: "Every pound we manage to save goes towards Anika's treatments.
"In the first year of travelling abroad to get help for our daughter we spent all our savings and that is the reason why we decided to try fundraisers and charities.
"We believe growth hormone therapy will make a positive impact on Anika's condition and we would be very grateful for any money people can afford to give."
Go online to www.justgiving.com/campaign/HelpAnikatohaveahappylifeagain or just4children.org/children-helped2020/help-anika-to-have-a-happy-life-again to pledge money for Anika's treatment and join the Facebook group 'Anika and Friends' at www.facebook.com/groups/2157999261174809 to find out more about her and the health issues she faces.