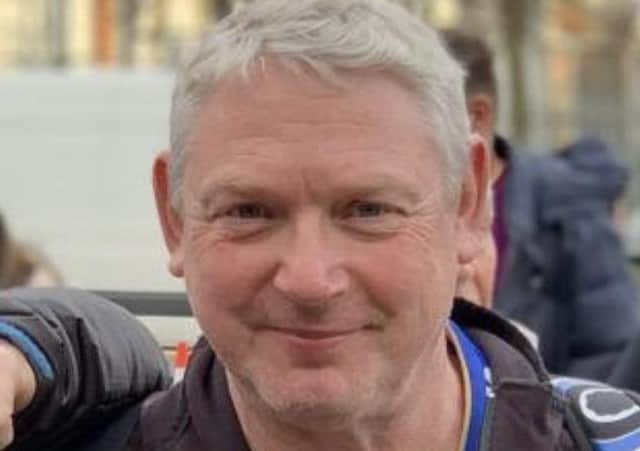 Tony Palmer, who has passed away aged 64 EMN-210801-161432001
Tony Palmer, who was 64, was a well known character around the town because of his widespread involvement in various local sports, his work with the Scouts and his friendly demeanour.
He had a new heart valve put in eight years ago and when it started to fail he was due to have surgery but operations were cancelled because of the pandemic.
Tony was admitted to Glenfield Hospital, in Leicester, on December 20 after he became unwell and while there he returned a positive Covid test.
Tony Palmer with wife, Jill, and their grandchildren, George and Thomas EMN-210801-161351001
His heartbroken daughter, Erika Lane, told the Melton Times: "The day dad died he had actually improved and the nurses had taken him off one of the breathing supports that he was on because he was doing really well.
"They were waiting for him to be reviewed by the cardiologist for his surgery and he just literally stopped breathing in front of them.
"For everybody it's been such a shock because it was completely unexpected."
She added: "When he was awaiting the surgery we thought it was a case that he would have it and then be alright again for another 15 years or whatever but obviously having Covid on top of needing the surgery was too much."
Tony Palmer (second from right) pictured at his daughter Erika's wedding, with from left, his father-in-law Len, wife Jill, son-in-law Michael and his son, Nick EMN-210801-161412001
Tony also leaves his wife of 34 years, Jill, a son, Nick, and grandchildren, George (3), and 11-month-old Thomas.
The family shared a poignant video call with him on his birthday on December 22 while he was in hospital.
"On his birthday I made a cake and we had a family video call with him and put some candles on the cake and George blew the candles out," said Erika.
"My mum, my brother, me and my husband and the boys all had a long chat that night which was nice.
Tony Palmer pictured marshalling at the Melton CiCLE Classic, which he did every year EMN-210801-161422001
"Not being able to see him face-to-face was the worst thing about it all."
Tony was born in Oakham and moved with his family to Burton Lazars before then moving to Melton when he was 11.
After he met Jill they lived their whole married life at Melbray Drive.
He made many friends through his involvement in local sport, which included playing football, co-ordinating the town table tennis league and running with the Stilton Striders.
Tony Palmer enjoying one of his passions, cycling EMN-210801-161402001
Tony also enjoyed skiing with his son in Switzerland, rock climbing and cycling, acting as a marshal on the Melton CiCLE Classic race every year.
He was proud of completing the London Marathon in just over three hours, which he was always quick to remind everyone about at regular intervals.
Erika said: "Dad was just so well known.
"Walking through town as a kid would take ages because we would keep bumping into people that he knew and he was always one for a chat.
"He loved talking to people."
He worked for 40 years at Melton firm, Jeld-Wen, in the stair factory, and was planning to retire at the end of this year and take his family on a skiing holiday.
Tony Palmer enjoying another of his passions, skiing EMN-210801-161442001
Tony was a venture scout leader with the 4th Melton troop for a number of years and recently helped with the 36th group.
One of his big passions was supporting Leicester City FC, attending matches with Nick for many years.
Erika said: "One of my dad's colleagues who he's worked with for 40 years brought his things up the other day from his locker and in it was a book with some running times in it which was dated 1984 and a newspaper from the day Leicester won the Premier League title."
Tony kept himself fit in recent years by going on 20 to 30-mile cycle rides and he also enjoyed watching the weekly Parkruns in Melton Country Park while looking after his grandchildren.
He has been shielding through the pandemic in the last year but Erika would often walk past with her children for a chat at the door, when he would enjoy giving a few pennies to George.
There has been an outpouring of sympathy for the family since Tony's untimely death, on December 28.
Erika said: "I must have had about 30 cards and my mum and my brother have got about 70-odd.
"We've had to borrow vases from friends because we haven't got enough for all the flowers we've been given."
A funeral service, limited to 30 because of current restrictions, will be held at St Mary's Church, Melton, on Monday January 18, at 12.30pm, followed by cremation at Grantham.
The procession will start from Tony's workplace on Snow Hill at 11.45 and pass his Melbray Drive home at around noon so friends and other mourners can pay their respects.
Family flowers only are requested with donations to the British Heart Foundation, via Richard Barnes Funeral Directors in the town.
Erika added: "He was the best dad you could have asked for and he was so doting to his grandchildren.
"He was the most lovable, friendly, gentle man and never had a bad word to say about anybody."