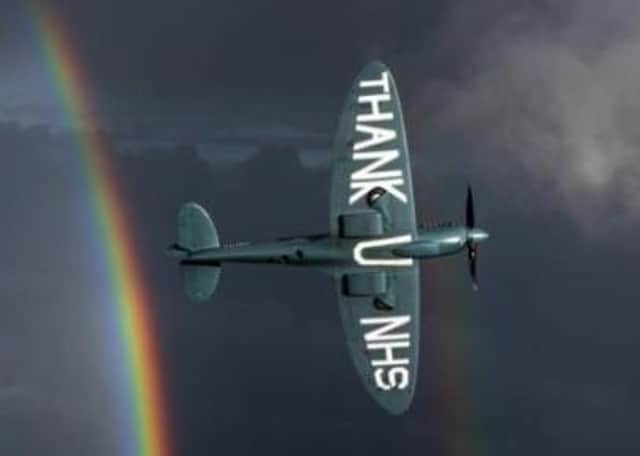 The special Spitfire, which has the names of thouands of NHS heroes written on it, which will fly over Melton Hospital on Saturday EMN-200828-160502001
The iconic Second World War RAF aircraft is due to soar over Melton Mowbray Hospital at 3.16pm - its last destination before completing a flight which begins at Duxford Airfield near Cambridge at 10am.
Those lucky enough to catch a glimpse of the blue Spitfire will be able to see the message 'Thank U NHS' written across the underside of its wings.
This special plane, which has staged fly-pasts at hospitals throughout the UK since early August, is emblazoned with the names of 80,000 NHS staff, family members, neighbours and friends nominated by members of the public to recognise their huge sacrifices and acts of kindness over the last few months.
People have nominated local heroes who have helped, or inspired, them during the Covid-19 crisis and paid a minimum £10 donation to NHS Charities Together in return for having them written on the aircraft.
The former wartime reconnaissance Spitfire PL983 'L', which is based at Duxford, flew over nearby villages during the recent Thursday Clap For Carers events.
John Romain, the pilot and founder of the Aircraft Restoration Company, said: "It's been fantastic.
"To see the people on the ground waving at you is humbling.
"The reaction from the people on the ground and the support has been amazing."
En route to Melton, it will also fly over Leicester Royal Infirmary at 10.19am and then others hospitals across the midlands and north of England.