'My six-month battle with Covid'
A Melton man who continues to suffer ill health as he recovers from having Covid-19 has urged local people not to get complacent about the virus with the possibility that a vaccine could soon be available.
Thursday, 12th November 2020, 5:06 pm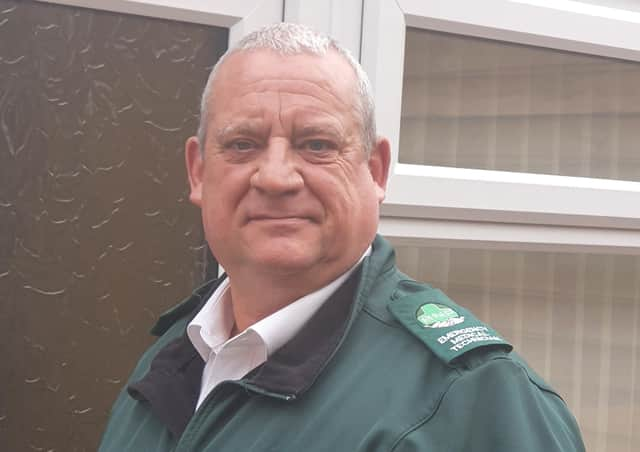 Nick Pridden, a Melton man who is recovering from coronavirus and currently suffers from Long Covid symptoms EMN-201111-115248001
Nick Pridden (53), of Baldocks Lane, spent a week in hospital on high, concentrated oxygen in May after being diagnosed with coronavirus.
He is slowly recovering but has had further symptoms since which indicate he is one of an estimated one in 20 sufferers who have the so-called Long Covid condition.
In a week when Pfizer and BioNTech say they have come up with a vaccine which stops 90 per cent of people from getting the virus, Nick is concerned that some might not continue observing social distancing and safety measures.
He told the Melton Times: "I worry people are going to take their foot off the gas but it's still out there and it's still killing people.
"The country needed good news but I'm just a bit worried that people will think 'oh the vaccine is here now, we can relax'.
"No you can't, it's going to be a few weeks or a few months before you get this vaccine.
"Don't let it fool you because it might take someone in your family if they get it."
Nick, who is married to Nikki and has three children, saw at first hand how savagely the virus can attack people, with patients in clear distress and others passing away during his treatment at Glenfield Hospital in Leicester.
And he is keen to let people know how serous it can be if you contract coronavirus.
"I can't understand these people who keep calling it the flu," said Nick.
"I wish I could take them into the wards and show them some people who, bless them, are gasping for air and dying."
He added: "Some people on Facebook are still not taking it seriously and some have been saying they are not going to take this vaccine.
"They should see the people who are struggling and dying.
"Nearly 50,000 people have died in the UK.
"If it saves one life it's worth taking. I really can't understand the mentality of it."
Nick's ill health began in January when he had a terrible chest infection for six weeks with conjunctivitis and the laryngitis.
Then in May he developed a high temperature and a breathlessness in what he describes as 'the worst time of my life'.
A Coivd test at Oakham came back unclear but he was then diagnosed with coronavirus following a second test at Birstall.
His condition worsened over that weekend: "I couldn't get up the stairs to the loo without gasping for air, I had to sit down four or five steps up the stairs," he recalled.
Nick runs a private ambulance business - SNP Medical Transport - transporting patients, including those with Covid, to Leicester hospital appointments and care homes.
He initially treated himself with oxygen from his own ambulance but he was soon advised to call an ambulance to take him to hospital.
"As the ambulance was taking me away I rang the children and at that time you think 'is this the last time I'll be speaking to people?' he said.
"It's a strange time for families as well because they can't visit and there is not much contact - when they realise you've got Covid and you are going to hospital they are thinking is it the last time they are going to see you or speak to you."
Nick, who is taking part in research into Long Covid patients, revealed that leaving hospital wasn't the end of it all for him.
He said: "Post-Covid, when I came home, I had illness after illness, like really bad, burning sinusitis.
"It felt like acid or a red hot poker at the back of your nose and your gullet.
"Then I got a really bad gastric problem. It's all part of Covid. It's your body reacting to what you've been through.
"I'm still a bit breathless, a bit cloggy in the morning, it takes you a half-hour to an hour to get going with your chest.
"But every day and every week it is getting better."
Nick, who had a blood pressure issue before contacting Covid, is testament to the long-term effects of coronavirus.
He added: "It's not a case of coming out and you are better.
"But I am one of the lucky ones because I came home."